Whether you're browsing through MCN, looking on social media or having a beer with your mates down the pub, inspiration for an incredible bike trip can hit you with a 'EUREKA' moment at any time.
In July 2016, I wanted to arrange a European motorcycle trip with my partner Mike, who had never been to Europe on the bike before. The trip itself was incredible, which we tackled on our Suzuki SV 650s, but we were left a little let down by the weather, with torrential rain every day, bar one! We were loaded up to the hilt with luggage as you can see below: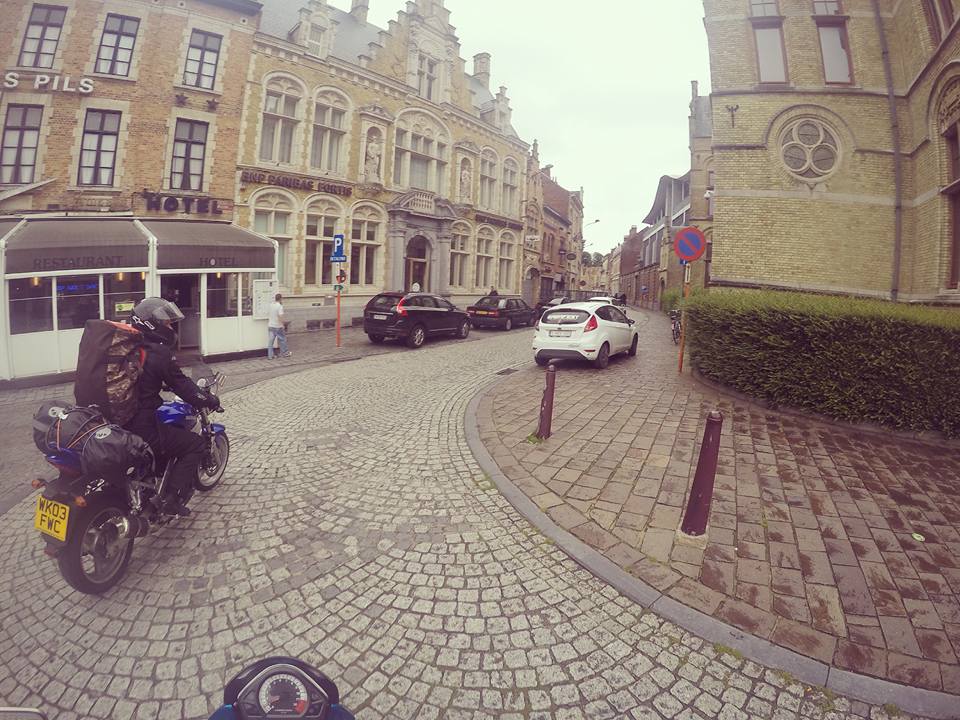 Sat down one evening eating a takeaway, Mike looked at me and said, "I wanna do a trip this year on the bikes, better than last year! I want to do the Swiss Passes, the Stelvio and the Nürburgring if we have time". I swallowed my onion bhaji, looked at him and said, "Sounds good to me!"
This is where the planning and prepping started, google maps open on the laptop, Swiss campsite reviews and Channel Tunnel crossing times open on multiple tabs. The research had begun.
Our aim was to fit in as much fun stuff as we could in our limited time frame whilst keeping costs as low as possible. We concluded that in order to most comfortably and efficiently get from A to B, taking the bikes in the van would be the smartest option. Covering many countries in a 7 day window on the bike would lead to numb bums, a hatred of fuel stations and weary souls, given the amount of riding that would be required in all weathers, good and bad. At least with a van, you can cover the long slogs in the dry and comfort, with your favourite road trip songs playing, all whilst getting decent miles to the gallon. This also meant that we would be fresh and switched on for our daily excursions to the passes on the bikes.
When we had a rough idea of what we were doing and a provisional route planned, it was time to get everything together. As we were going for low cost, low maintenance holidaying, we decided that we would try and use campsites instead of hotels, where we could to keep costs minimal. I took a trip to Sports Direct and bought some supplies including a self-inflating bed and disposable BBQs, then I moved onto B&M Bargains to buy lots and lots of water, Lucozade and snacks in general to keep us going.
We heard Switzerland was pretty expensive (this proved true), so we bought some meat from the Supermarket and kept it in a cool box that we bought especially for the trip. Mike laid some carpet in the van so that the air bed was less likely to burst on any rouge shrapnel that evaded the cleaning process.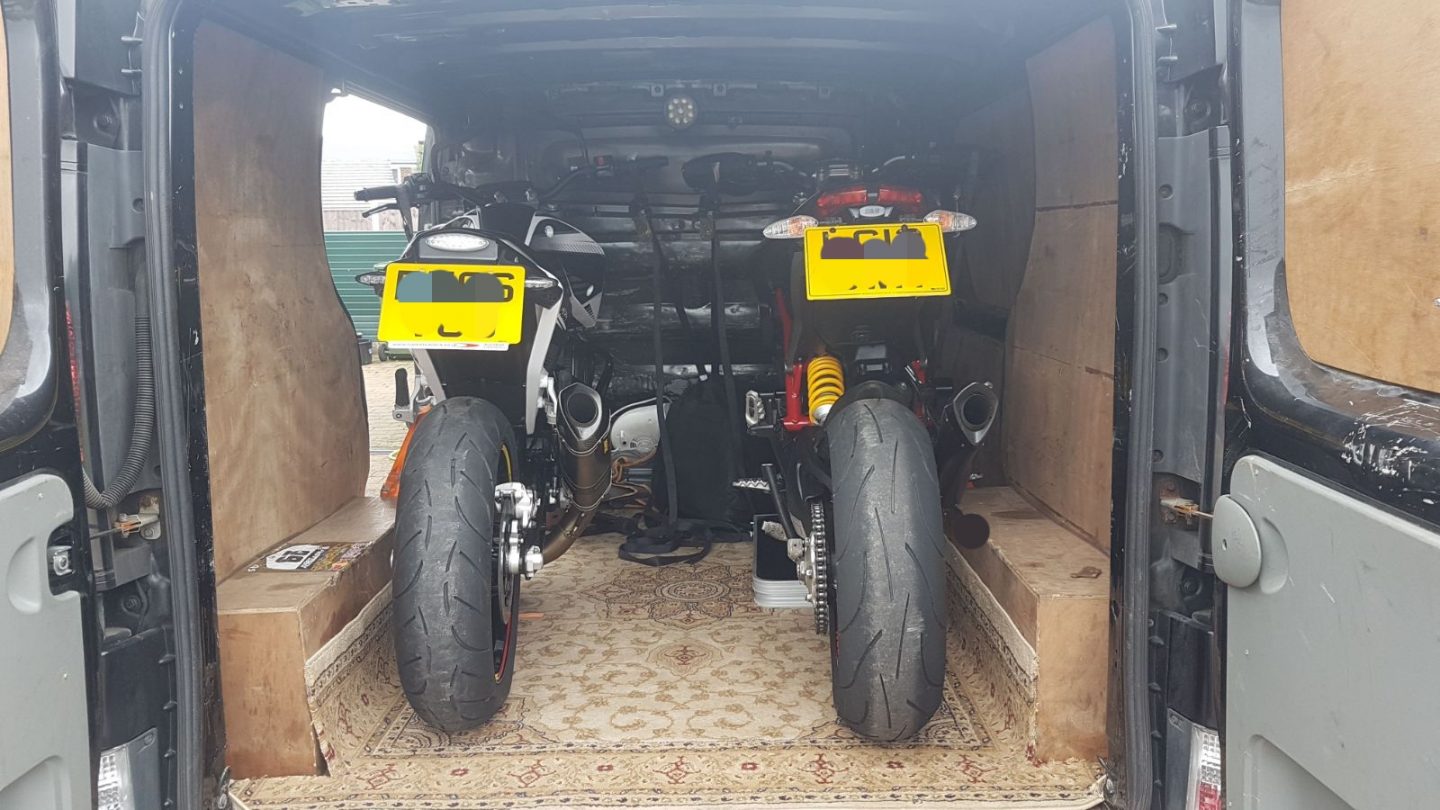 So, we loaded the bikes into the van, we had a wheel chock in each corner, tie downs and ratchet straps. Then in went everything else around them, including leathers, textiles, helmets, boots, gloves, food, stoves, the bed, clothes and electrics.
As we were running a Go Pro Session each and a Canon Powershot G7x camera, we took a laptop so we could upload our footage straight onto it and not worry about running out of space on the SD cards. Now can you see how incorporating a van into your journey has many advantages? More space to carry stuff, shared driving, you're your own recovery vehicle if anything should go wrong with the bike, a dry shelter on the rainy days, driving in comfort and you can do hundreds of miles without stopping – allowing you to get to your destination quicker and consequently leaving more bike time at the places where you actually want to ride. Winner winner.
So, on Monday 28th August, the alarm sounded at 4.30am. At 5 am, armed with pillows and a quilt (as the back of the van was full), we jumped in the front of the van and began our road trip to Folkstone. Halfway to Folkstone, we switched drivers so Mike could get some quick shut-eye before he took on the absolute monster of a drive into the heart of the Black Forest in Germany (a whopping 7 hours 37 mins from Calais)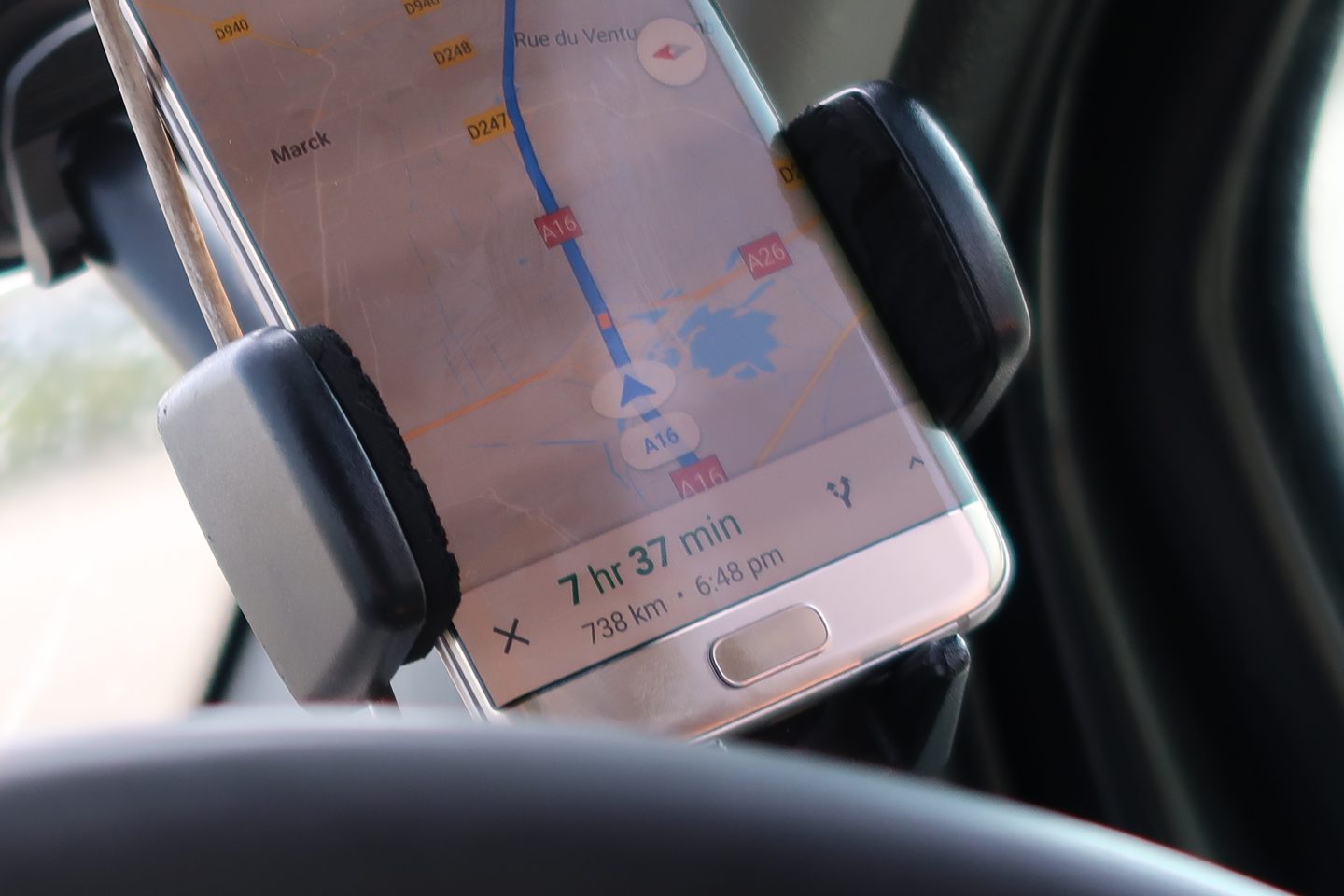 We drove into the channel tunnel, parked up and waited to be transported to Calais. The tunnel crossing was quick, it only took what seemed like 30 mins. Once we arrived, it was nice to see that the sun was there to welcome us into France.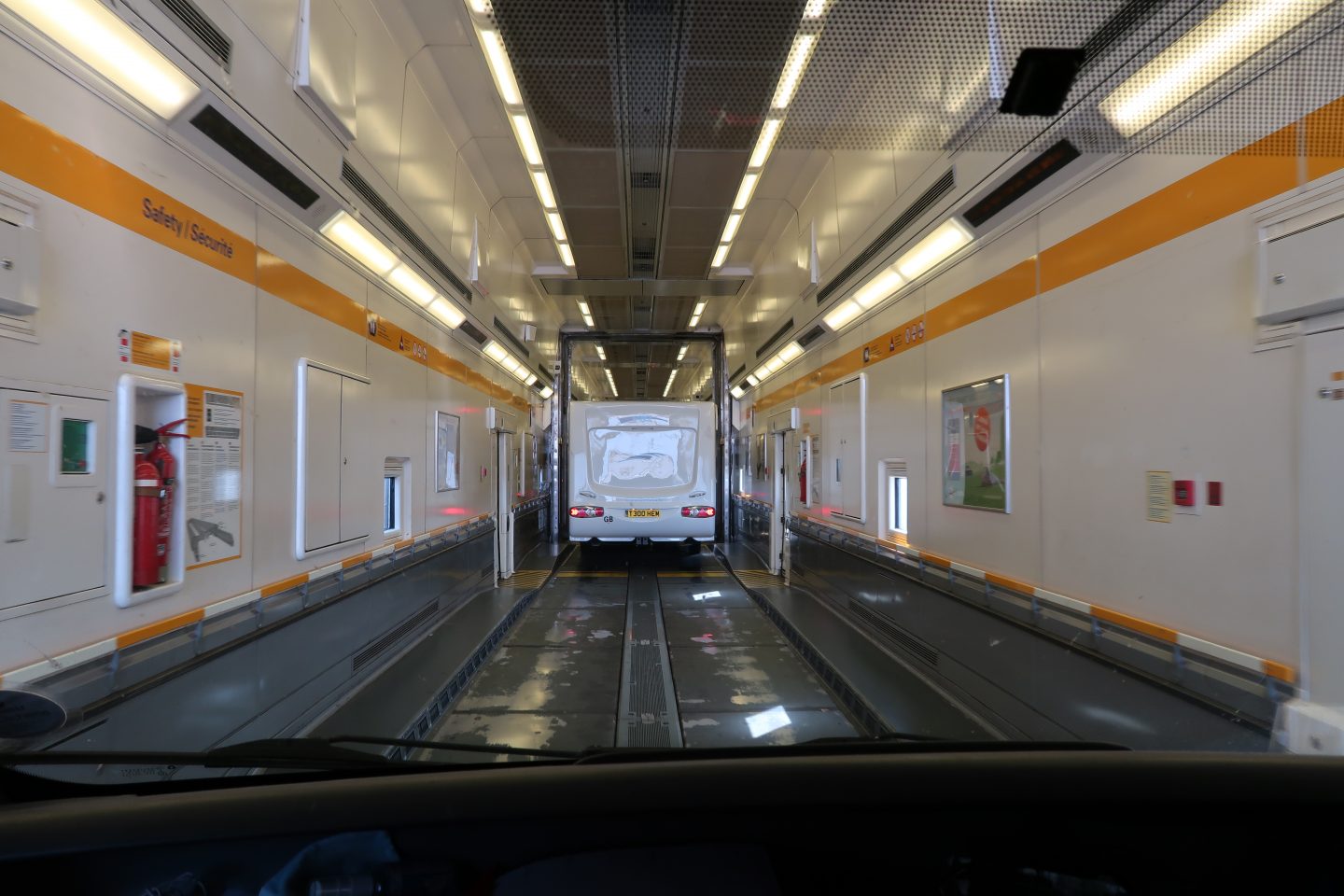 After a long drive through France and a bit of Belgium, we reached our destination at Simonswald in the Black Forest, Germany. We had reserved a space at a campsite for the first night, but as we arrived so late, we couldn't be bothered dragging out the bikes and sorting out the air bed, electrics and food for the night, so mid route, I reserved a Gasthaus (German for guesthouse/ b&b), note: you may see them referred to as a Ferienwohnung, this means holiday home and is a similar thing if you need somewhere to stay. I reserved the Gasthaus via booking.com, who allowed us to reserve without deposit. We stayed at the Landgasthaus Grüner Baum and it was 79 Euros for the both of us. The Gasthaus was basic but with lovely views from the balcony and a nice simple room set up with WIFI. It was clean and the breakfast was your typical continental breakfast but it was somewhere for us to get our heads down before the drive to the Swiss passes the next day.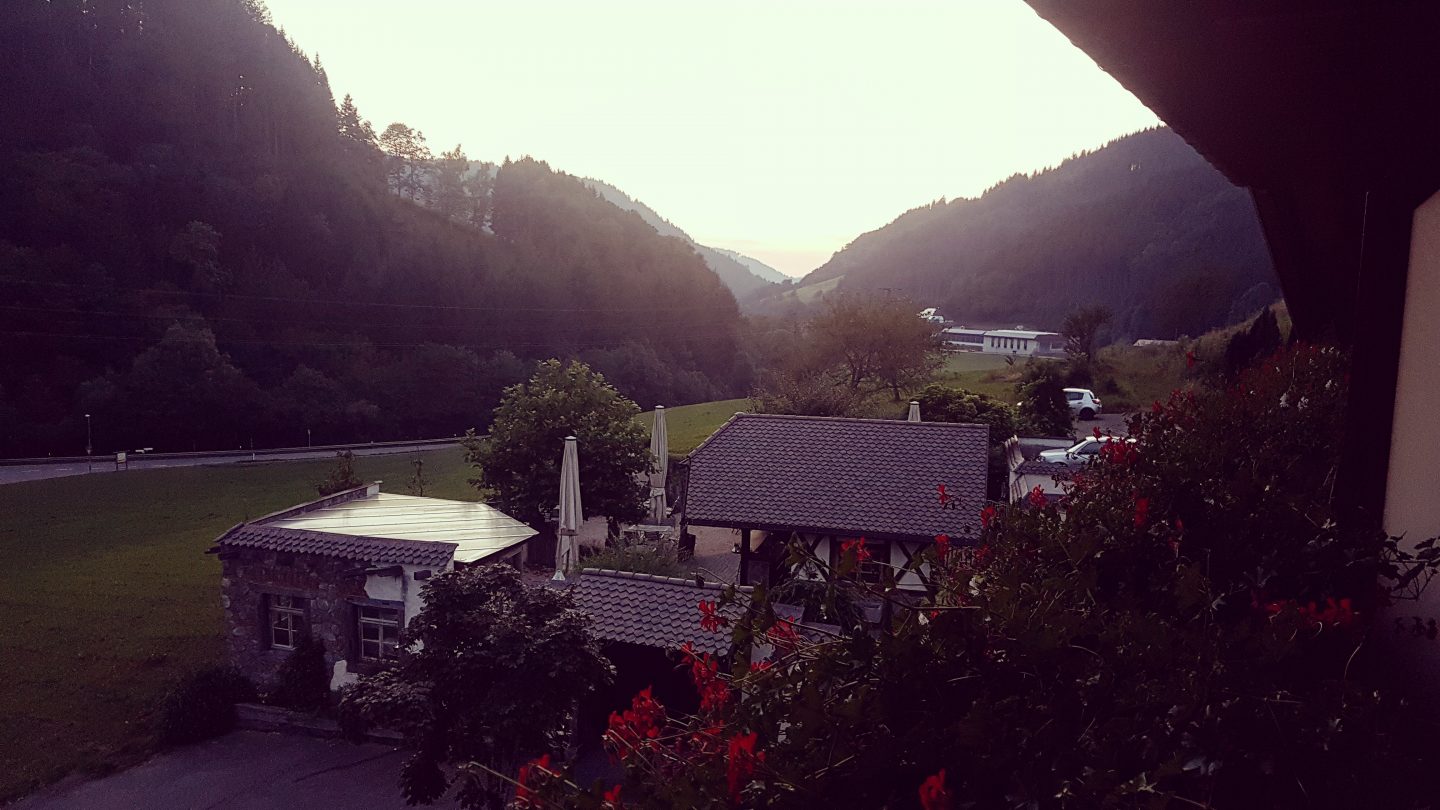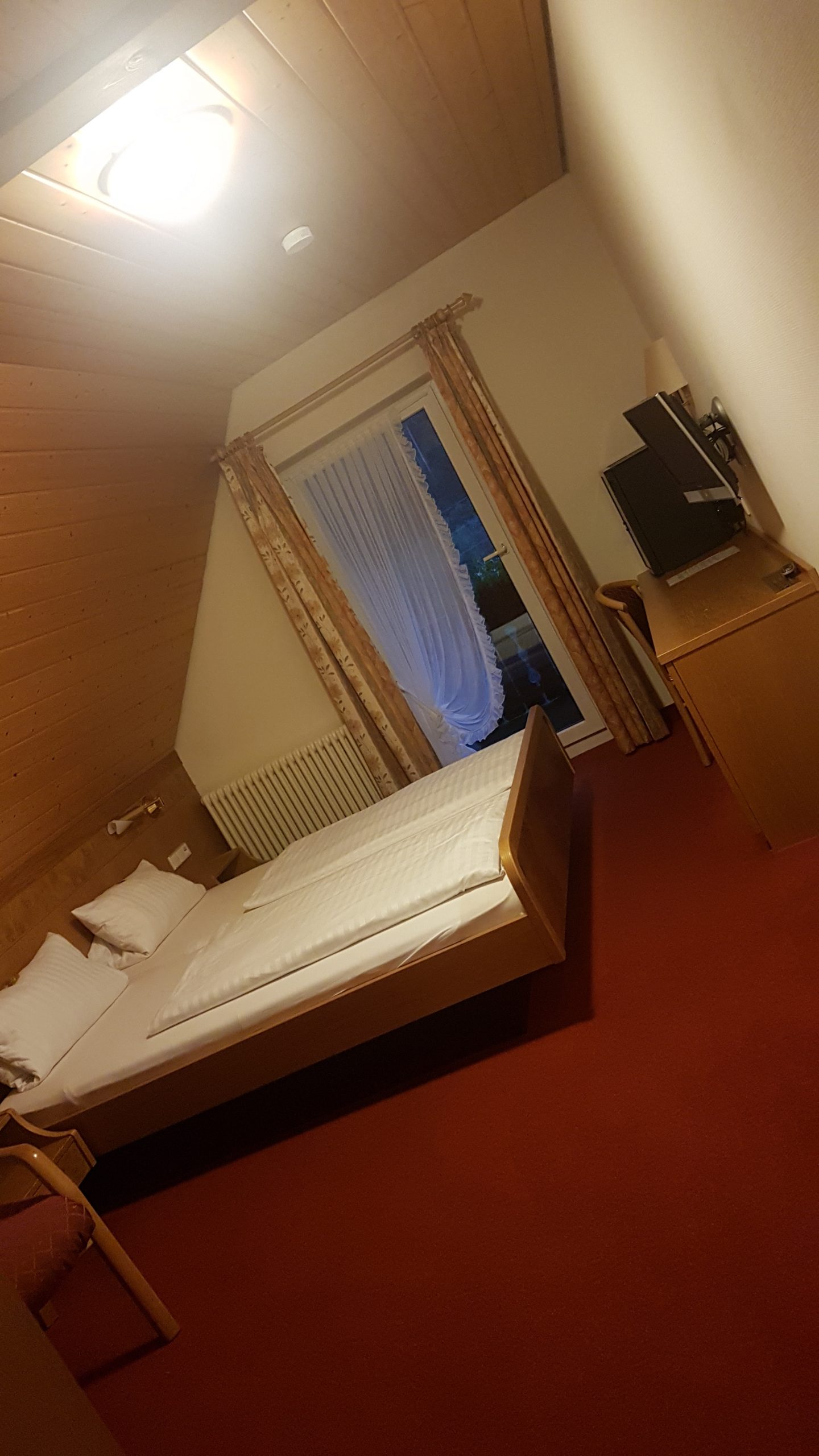 The next day, we woke up, sorted ourselves out and went down for breakfast. After that, we jumped in the van and typed our next destination into Google maps (the joys of modern technology – a global map at the touch of a button on your mobile)
Our next destination was in Switzerland, if you are travelling by motorway in Switzerland at any point, you will need to pick up a Vignette. Without this you can get stopped and incur big fines. It's a tax that must be paid. You display it in your vehicle, if a van, on the windscreen, if a bike, on the screen or front, however I have seen some stuck on the under-tray of the bike (although i'm unsure of this method's legality!)
The journey to the campsite was 3.5 hours from Simonswald and we were staying at he Gotthard Camping Platz in Andermatt. To get to Andermatt, we had to travel over the Gotthard Pass in the van. With the altitude and all the weight, combined with miles of roadworks, it was the slowest ascent up the pass before finally reaching the campsite.
Upon arrival at the Campsite, on one side of the road, there was camping for tents on grass, and on the other side of the road, there was a big gravel space for campervans, caravans and vans in general. We got a pass to go through the barriers and we were in. There were ports for electric and good showering/ toilet facilities less than a minutes' walk from the campsite. The views of the mountains were stunning and colourful flags adorned the main stretch of the small alpine town, which was full of places to eat.

On the first day there, Mike lit the disposable BBQ and he threw on some burgers and cheese from the cool box. As we'd arrived in the afternoon, after dragging the bikes out the van and getting the inflatable bed blown up, we decided to take the bikes over the Oberalp Pass.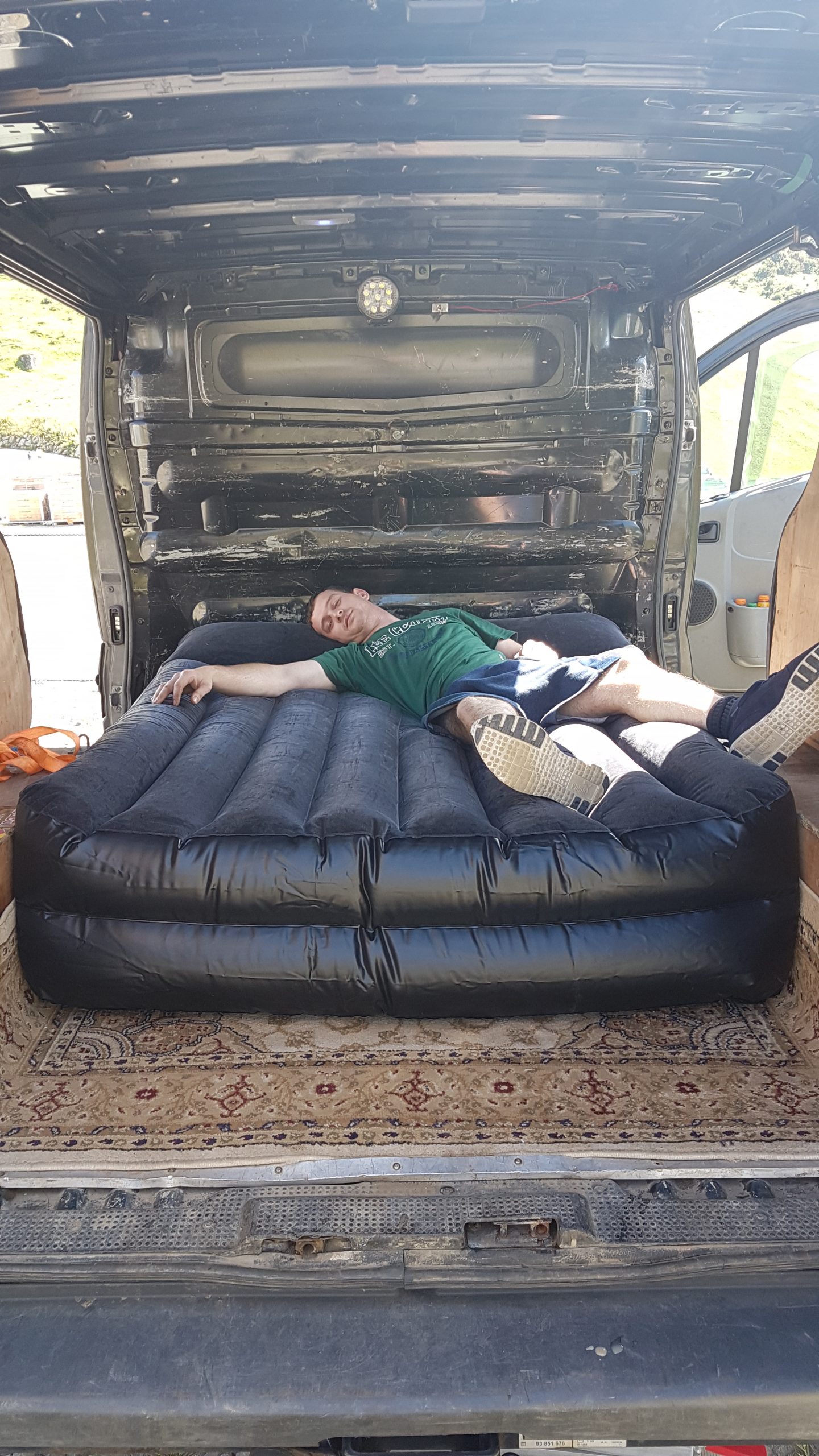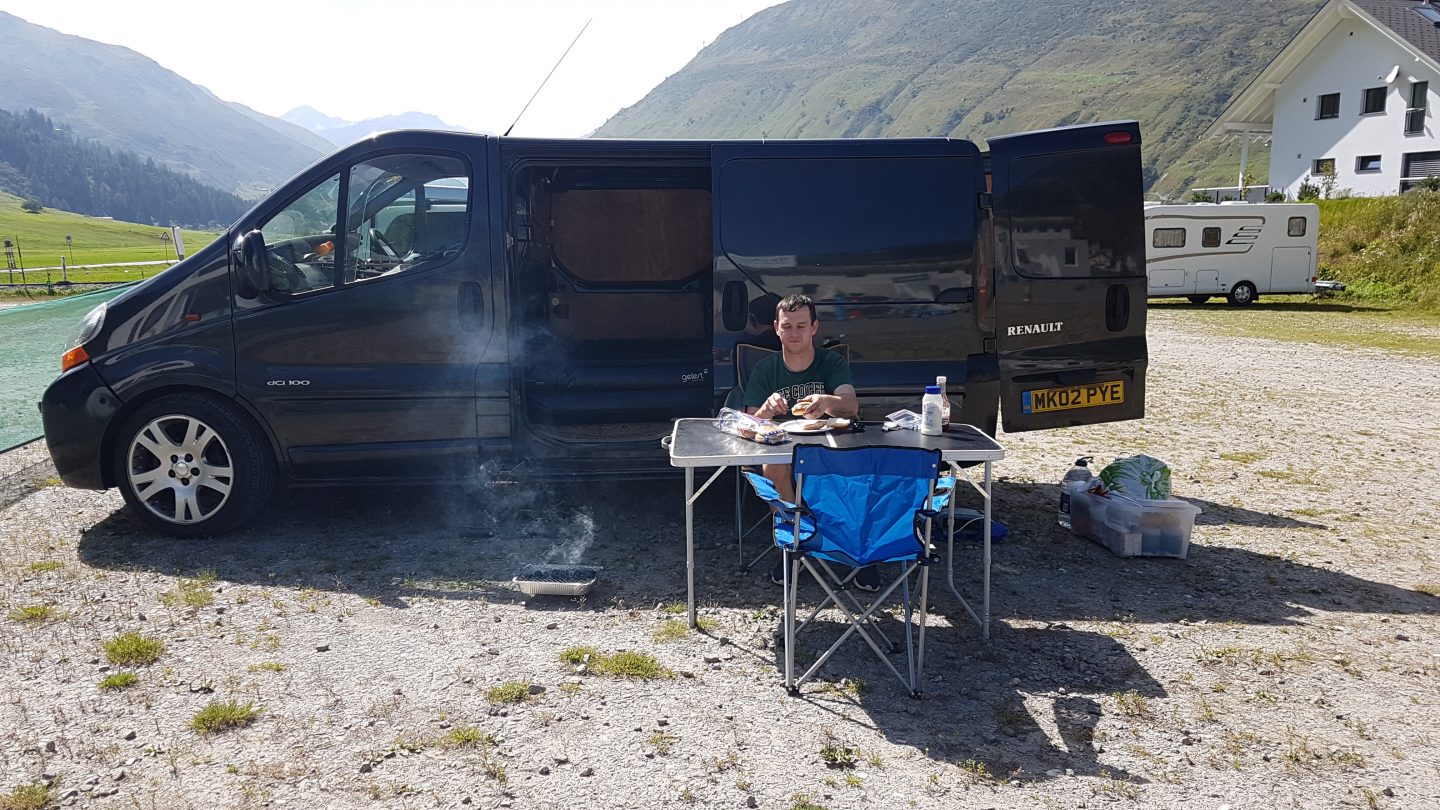 We stopped along the way for scenic pictures but mainly just went chasing the twisty alpine roads. Mike decided to lead me up a side road which was a pretty steep gradient that climbed up and onward, it was quite gravelly and laden with hairpins. I was so annoyed that my Go Pro didn't record the monstrous tipping point wheelie Mike did up that road (it wasn't the Go Pro's fault, it was user error). After climbing up, hair pin after hair pin, we got quite high up the side of a mountain, sadly the road led to a dead end, so we went back down, our obnoxiously noisy bikes singing in the valley.  When we got to the dead end, I had to turn my tall bike around on gravel which I always find daunting. Then mike showed me how it was done, wheel spinning it around on the spot!
We pulled over and took a few pictures, then we decided to go back to the campsite, have a shower, chill out and relax at the van ready for a full, packed day of riding as many passes as we could the next day!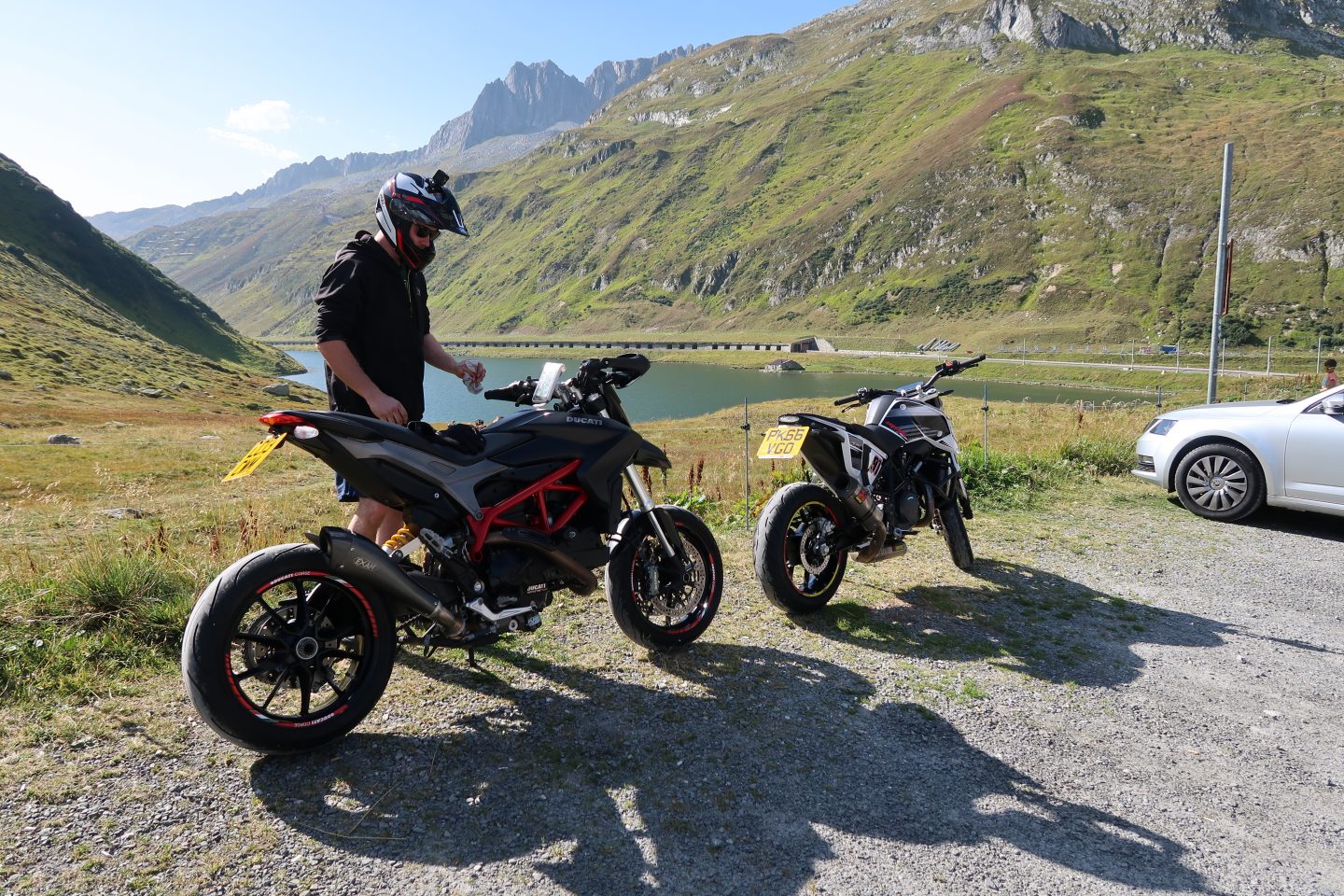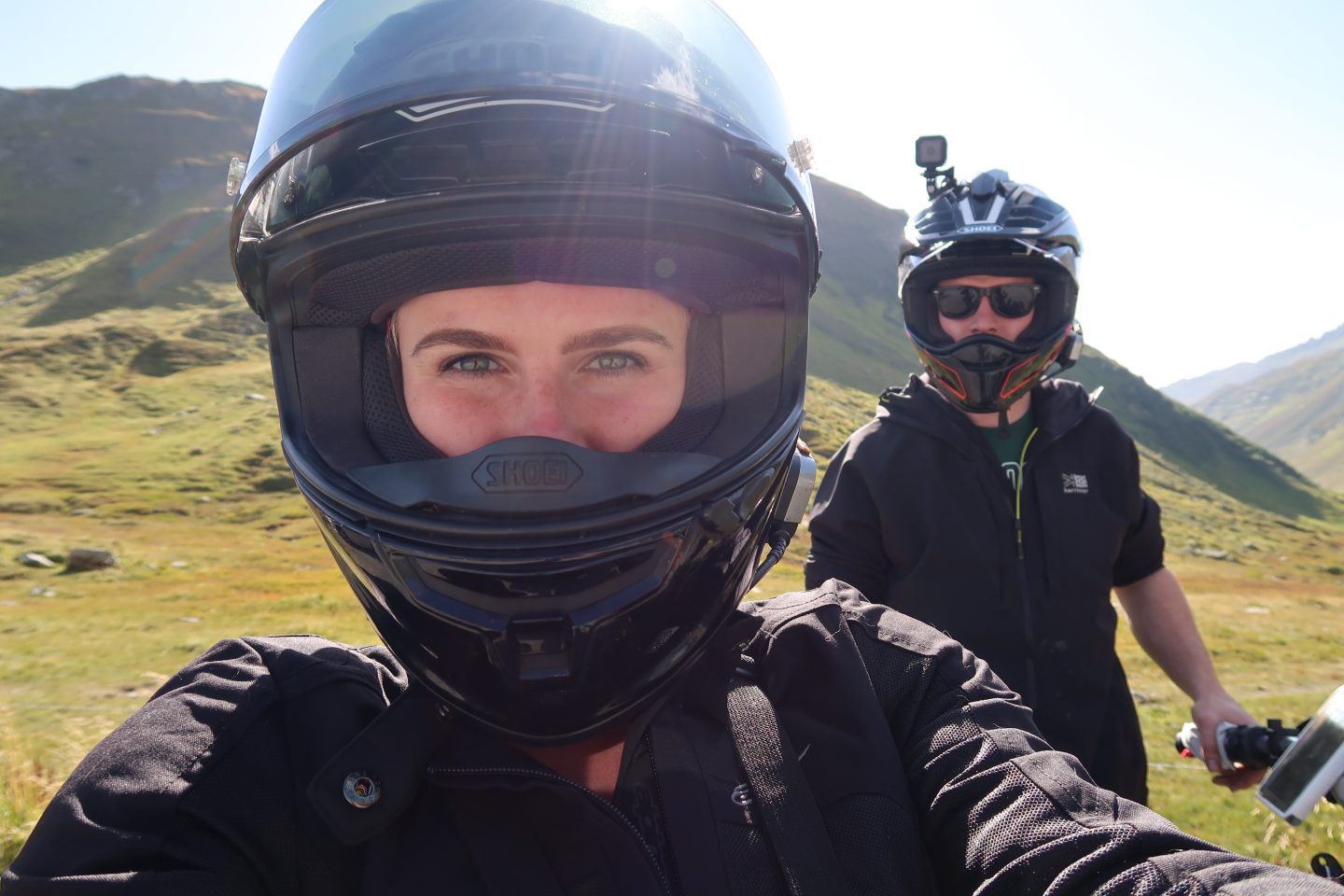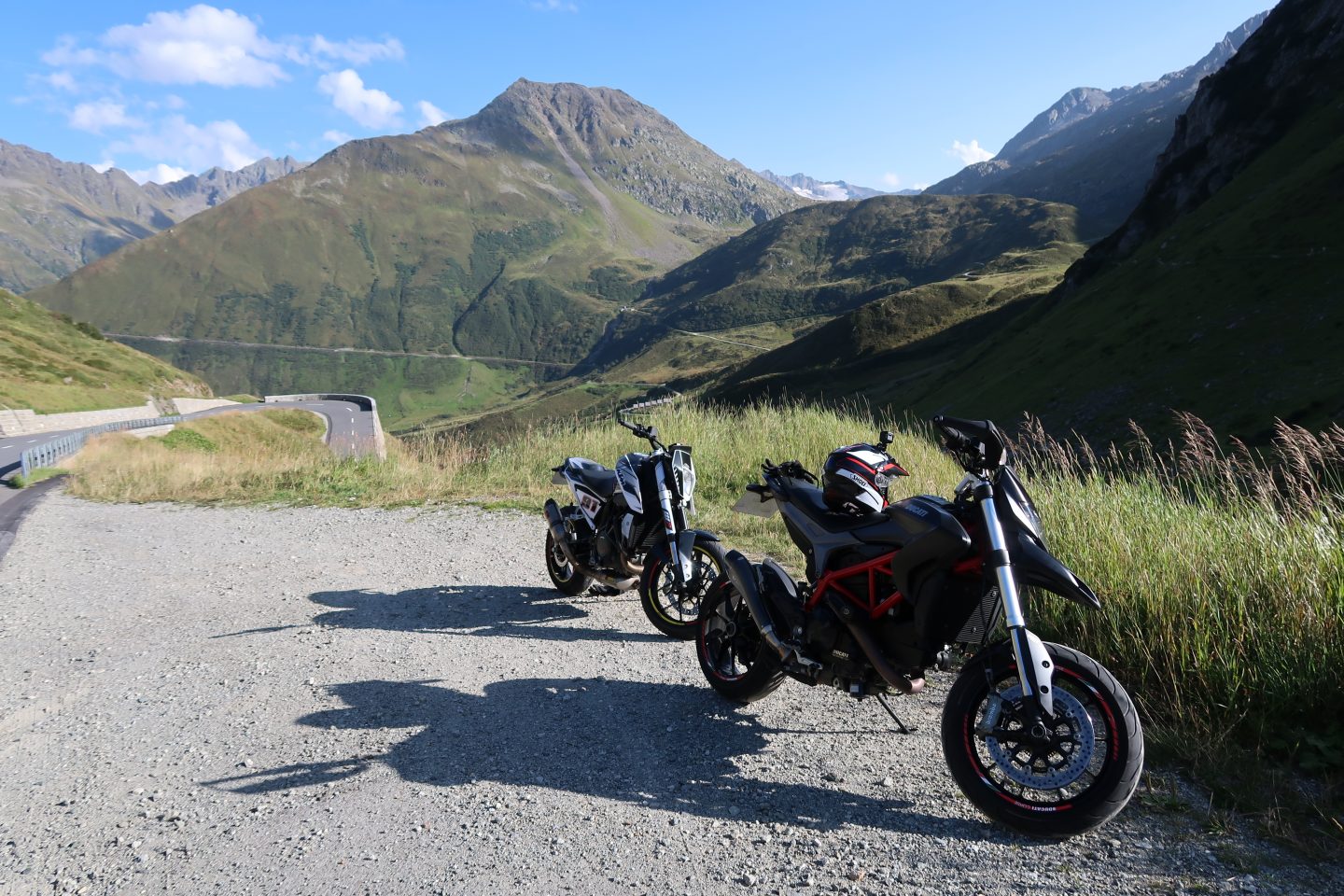 Sat in the van at night (which looked like one of the tech vans from Mission Impossible), we had everything plugged in charging, the camera, Go Pros, phones and the laptop. We uploaded all our footage onto the laptop and formatted the SD cards so we had room on them for all the brilliant footage we were hopefully going to get the next day.
Throughout the trip, I'd been uploading pictures to my social media account on Instagram. I got a direct message from a guy on the social media platform, whose username was 'Jamwheel'. The conversation went as below: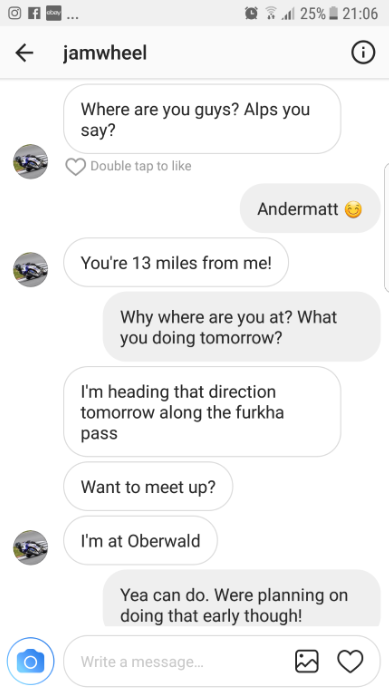 Mine and Mikes initial reaction was… we don't know this guy! what if he is a psycho? then we thought, you know what? let's have an open mind… and we agreed. Let's just say we are glad we did, because this guy enhanced our day riding the passes when we rode with him, which I shall expand on later.
After further communication in the morning to firm up our plans, we headed out to the Café at the start of the Grimsel Pass to meet up with 'Jamwheel'. In order to get to the Café, we had to ride through the Furka Pass to get to our destination. On the Furka en route to Jamwheel, Mike pulled into a layby, which had a metal signpost on it. It read 'James Bond Strasse' meaning James Bond Street. There was an information plaque next to the sign. Apparently, this was the street where filmmakers shot the iconic scenes in James Bond, Goldfinger, where the Aston and Ford have an epic car chase.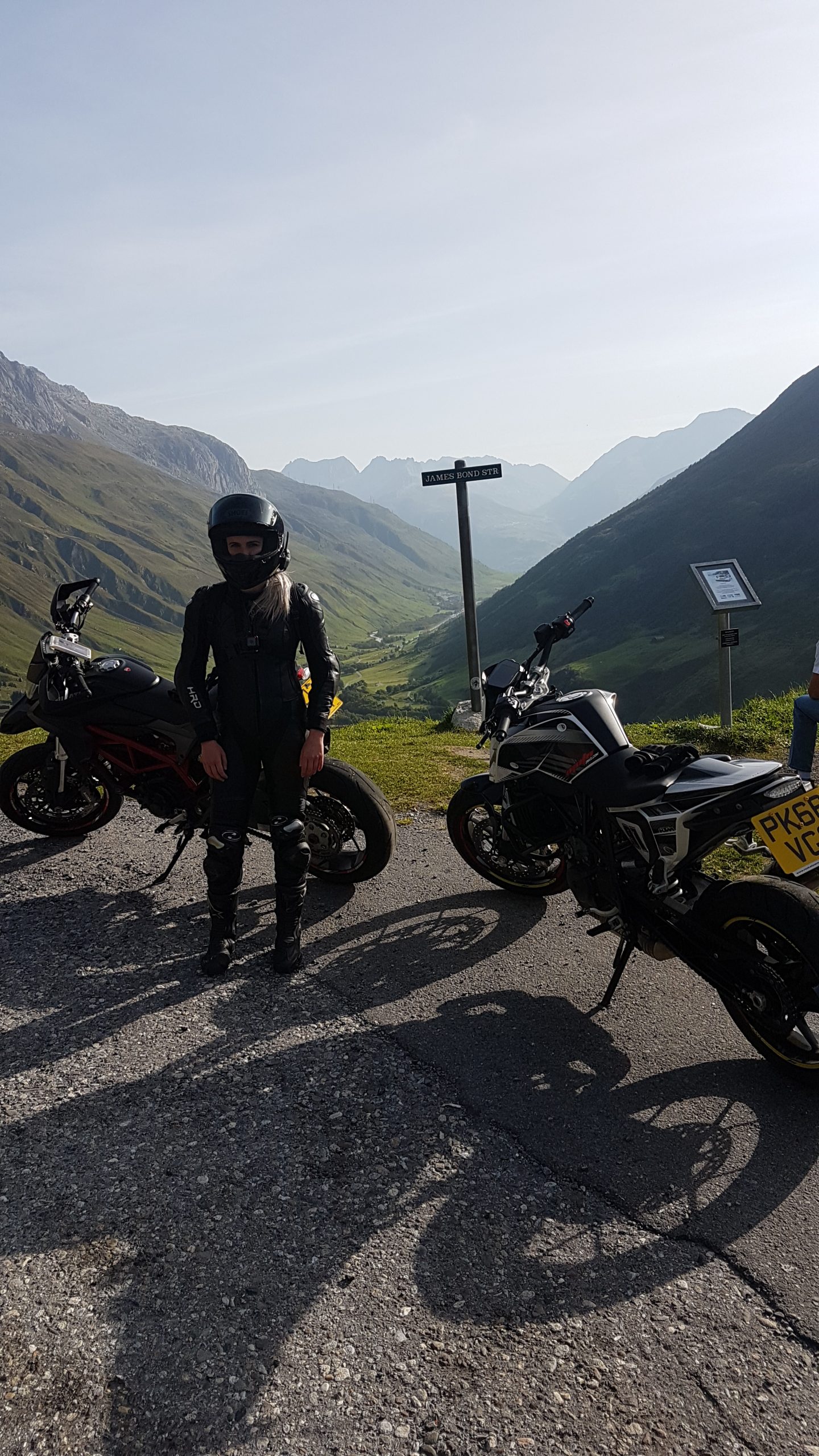 After riding the Furka for a while, it transitioned to the start of the Grimsel Pass. It was here, at the Hotel Alpinerosli that we waited for Jamwheel. We sat down with a very expensive Latte that overlooked Totensee, a beautiful lake directly opposite the Alpinerosli.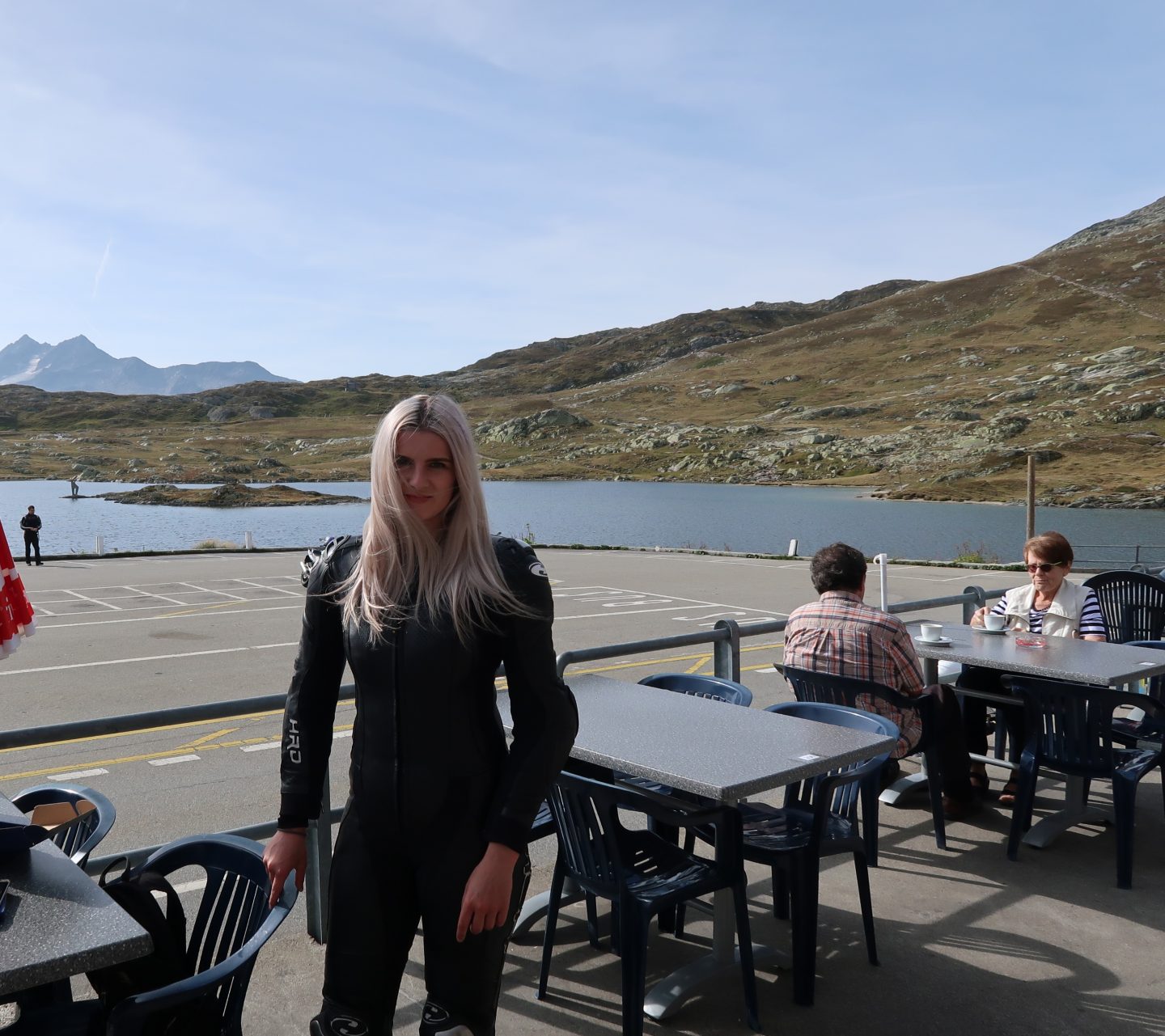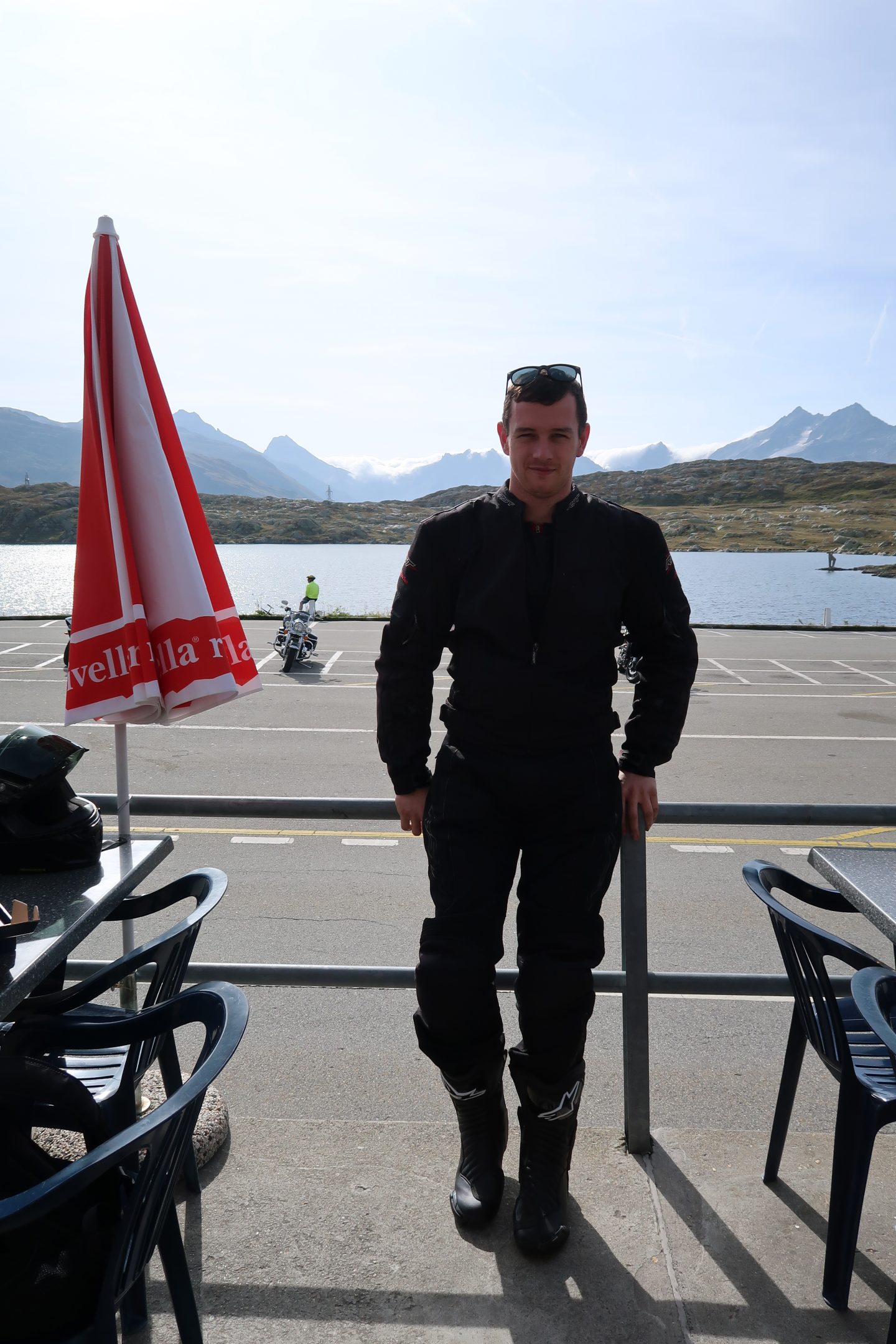 After about 20 minutes, Jamwheel aka 'Stealth Rider' rocked up on his equally stealthy Yamaha MT10. After brief introductions, we agreed to follow Jamwheel through the Grimsel Pass, onto the Susten Pass, as he seemed to have a better idea of how to get there then we did. First impressions were spot on, at least he didn't look like a serial killer…
So off Jamwheel went, like a Shepard leading his sheep, only these sheep were training for some kind of race because they weren't hanging about!
As we set off on the main road from the Alpinerosli, we were instantly hit with flowy, smooth tarmac, beautiful hairpins and tunnels that take you through the side of the mountains. On this road, to your left is the Dam of the Grimselsee reservoir, it is spectacular and monumental in size.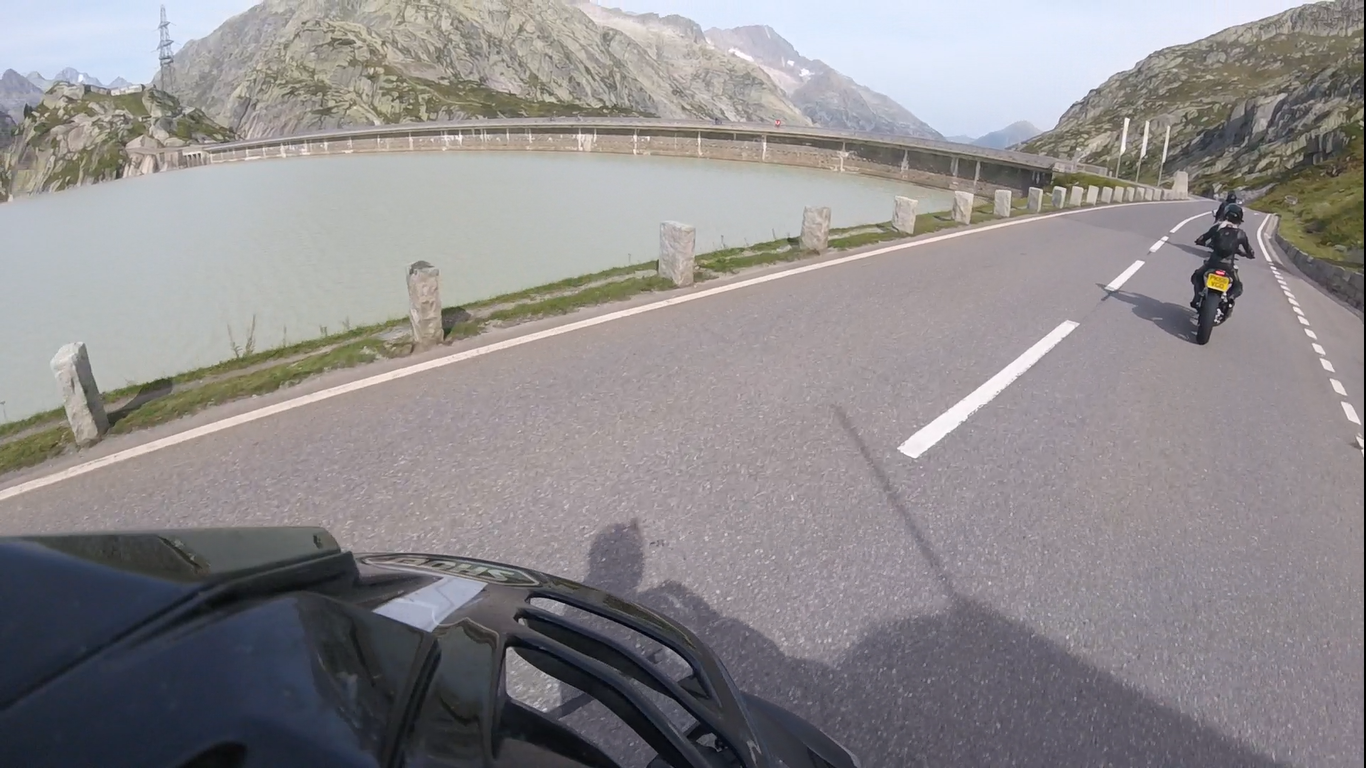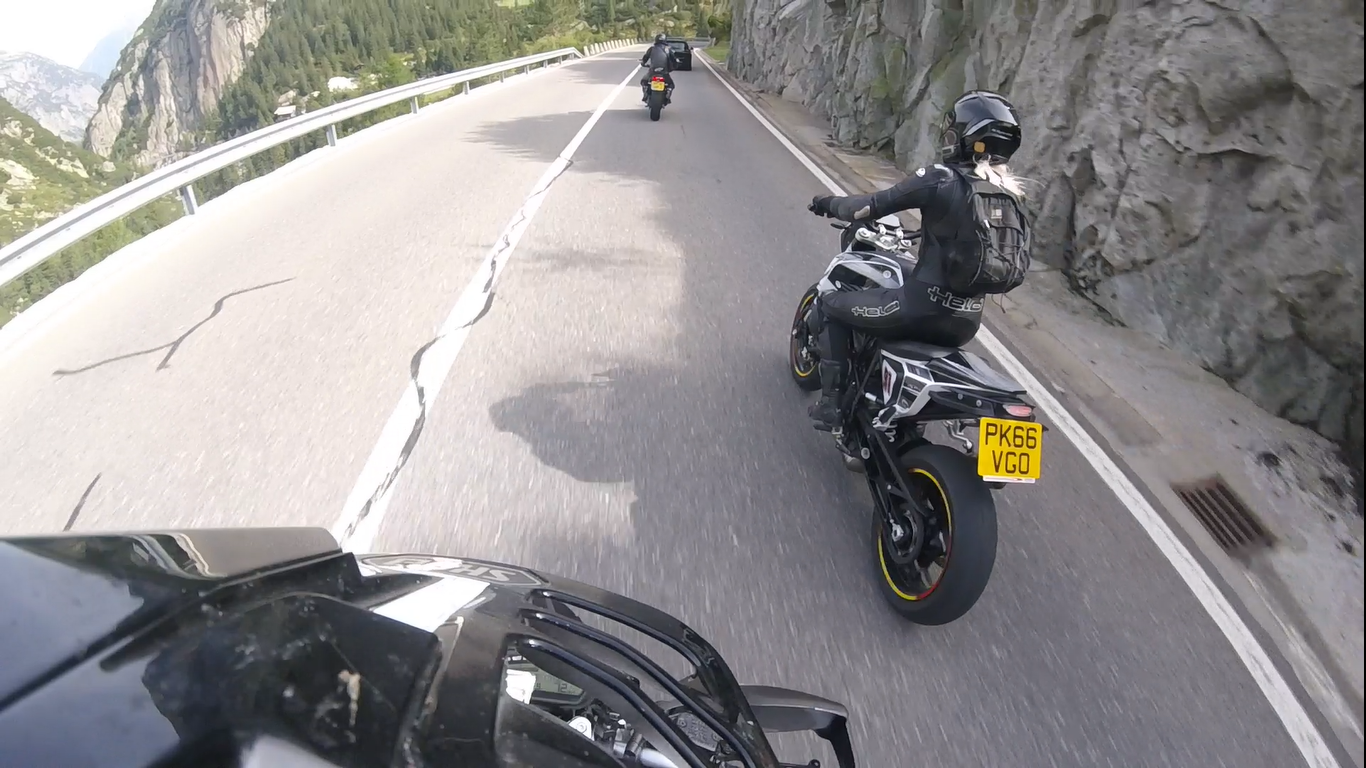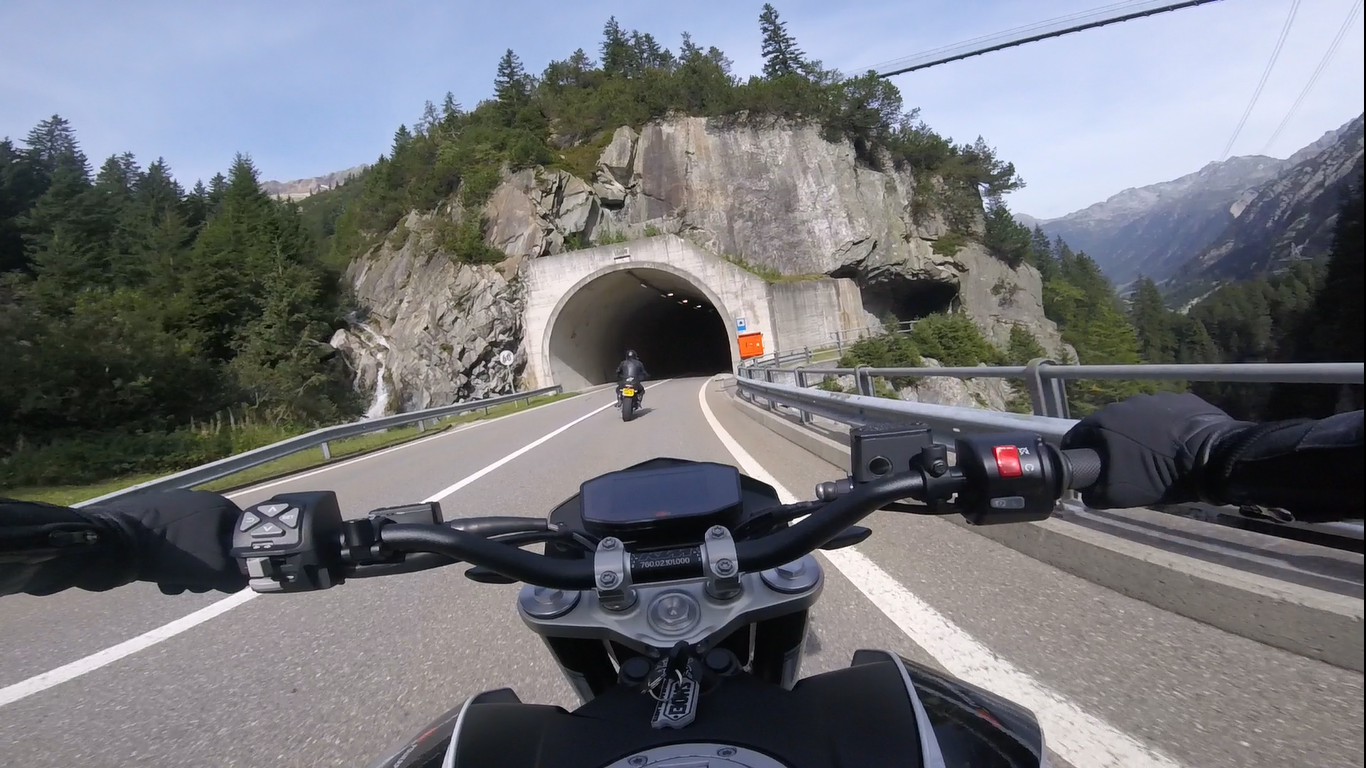 After miles and miles of riding, without a bad view in sight, we eventually took a right turn at Innerkirchen, which put us on the course of the Susten Pass. The Susten Pass was my favourite pass. We arrived at the Berggasthaus Hospiz, right near the Susten Pass sign (where everyone gets a picture stood next to it). We pulled up, had an ice cream and took the chance to take in the scenery around us.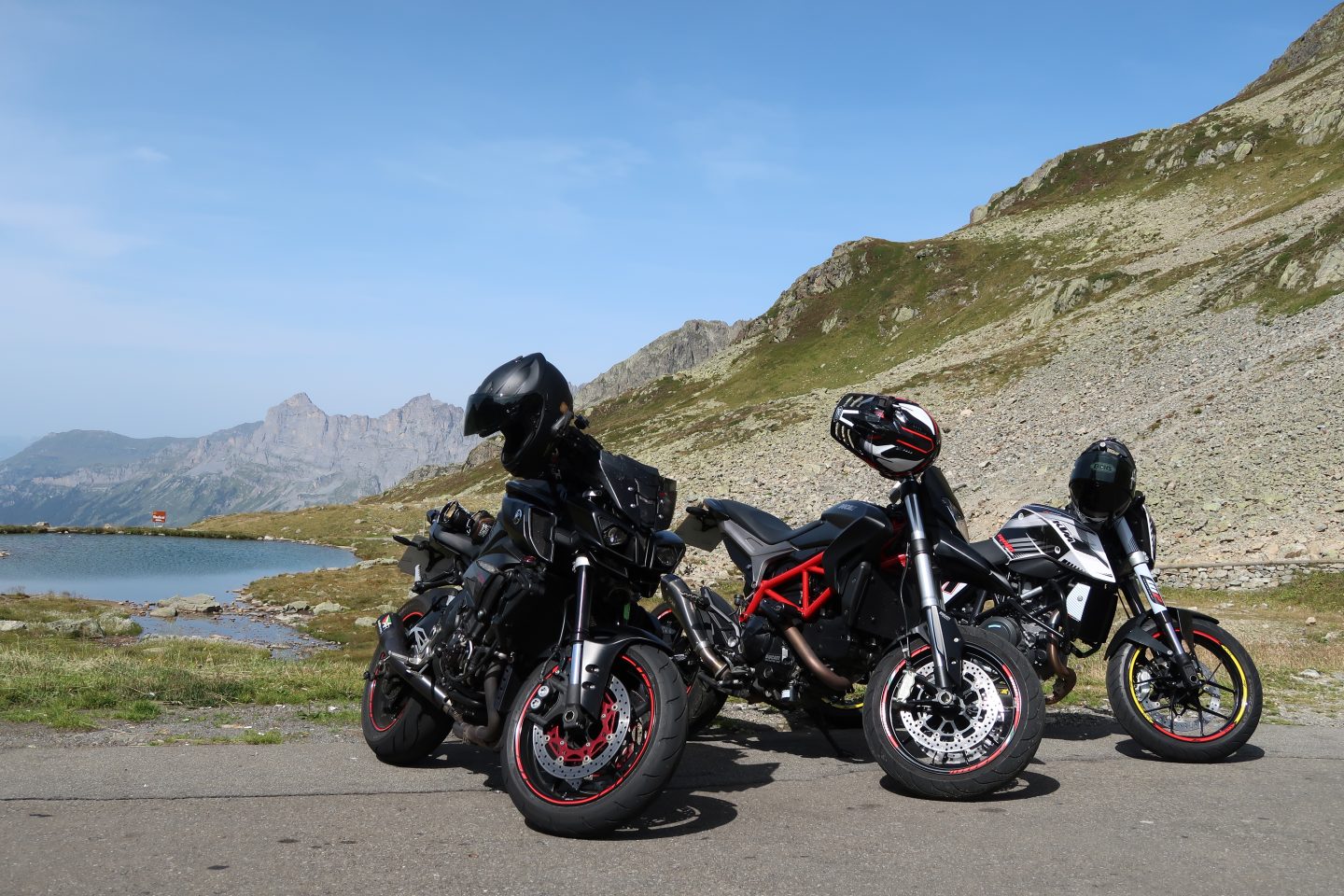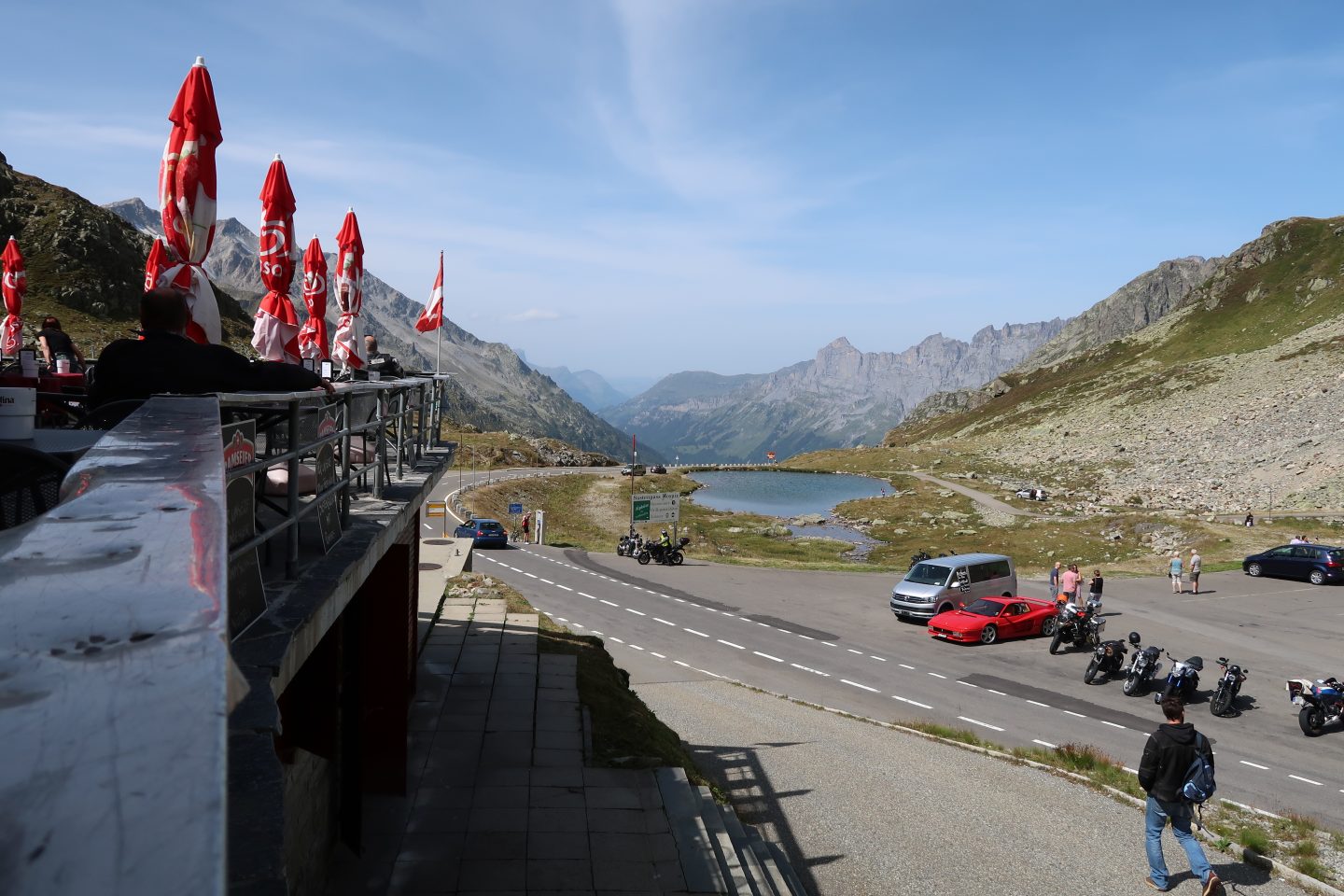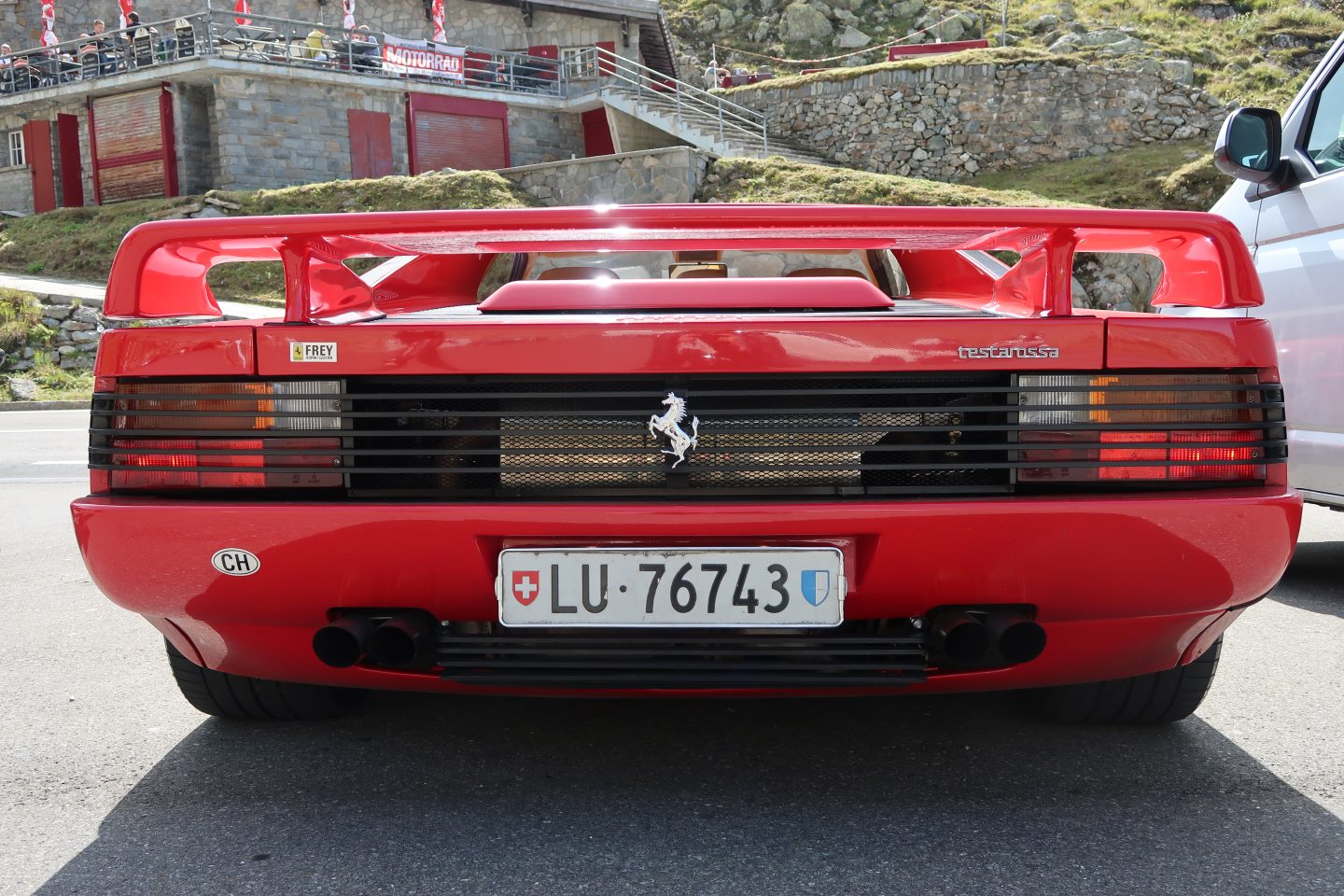 Next to the Berggasthaus Hospiz, there is a long mountain tunnel called the Scheiteltunnel. We sat at the Café, basking in the glorious sunshine, guessing the vehicles coming through the tunnel by their engine note. This was pretty fun, especially when beautiful super cars like Porsche's and Ferrari's took to the tunnel, as well as exotic motorcycles like Ducati Panigales and MV Augusta F4s, screaming as loudly as they could. It was total ear porn! After relaxing for a short while, we took a short walk away from our bikes that were parked up in the car park, as Jamwheel wanted to capture some panoramic shots on his camera, away from the cars and the Café.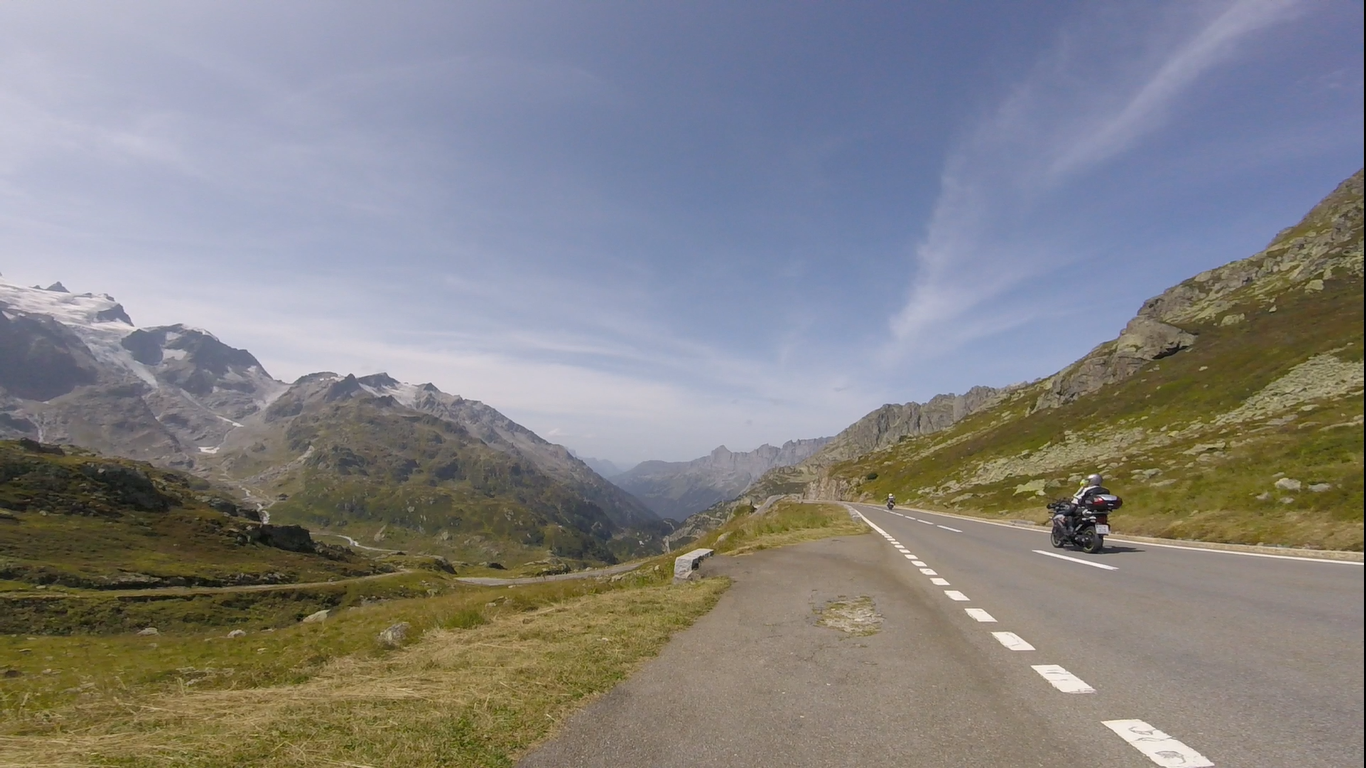 As we all stood there, taking in the scenery, we noticed a wonderful looking road that climbed quite high into the ice-covered mountains. We could see that there were cars parked up there. We all decided we wanted to go and see what it was all about, so we geared up, hopped on the bikes and followed our noses until we arrived at the foot of the road we'd been admiring. After consulting Google Maps after we had been up, we discovered the place was called the Stein Glacier at Steingletscher. If you are travelling along the Susten Pass, I would highly recommend travelling up to the glacier. It was incredible. Once at the top, you park up on the gravel car park and there are beautiful views as far as the eye can see. You are surrounded by mountains and the Stein glacier itself.
There are cows there, cow bells swinging in the alpine breeze and filling the mountain air with their percussive symphony.
The sights were simply stunning.
Travelling back down, we passed an incredible waterfall and a lake. At the lake, Jamwheel took to the waterside and dunked his neck scarf in the glacial water to try and cool off, as the weather was on our side.
At the side of the lake, there was a nice gravel car park, where Mike obviously had to have a play on his Ducati Hypermotard 821, drifting it around the car park, with the sound of the limiter echoing off the mountain walls.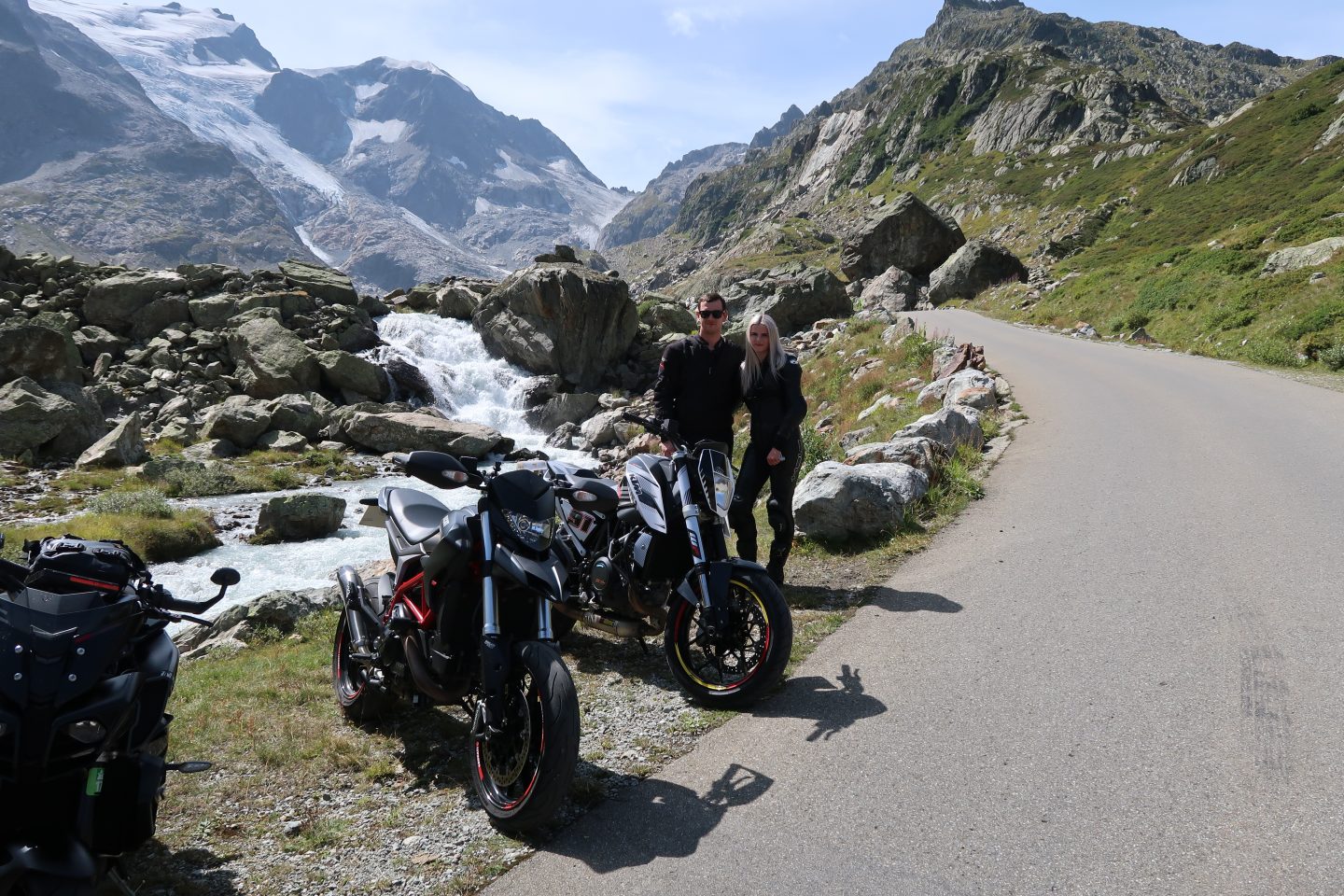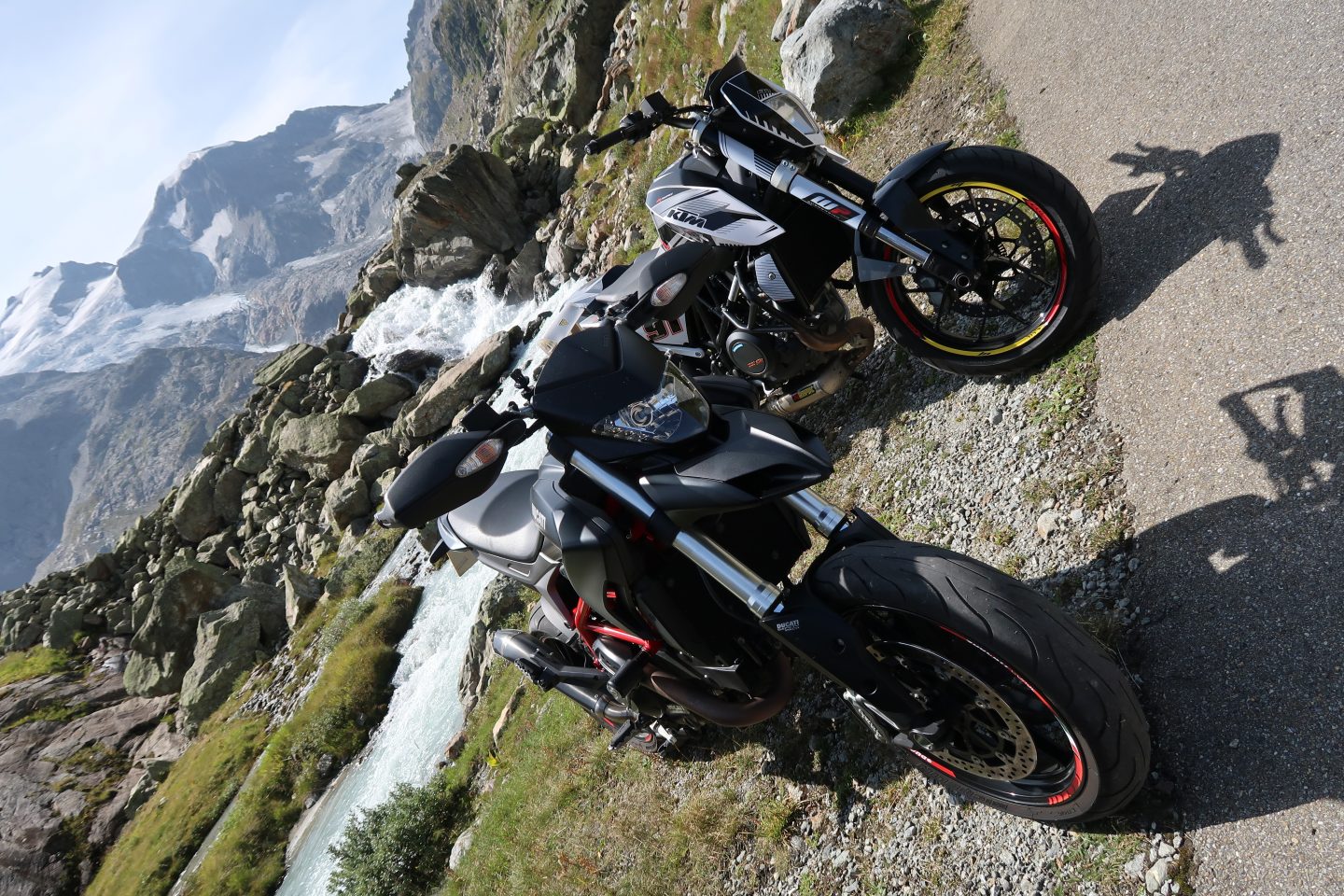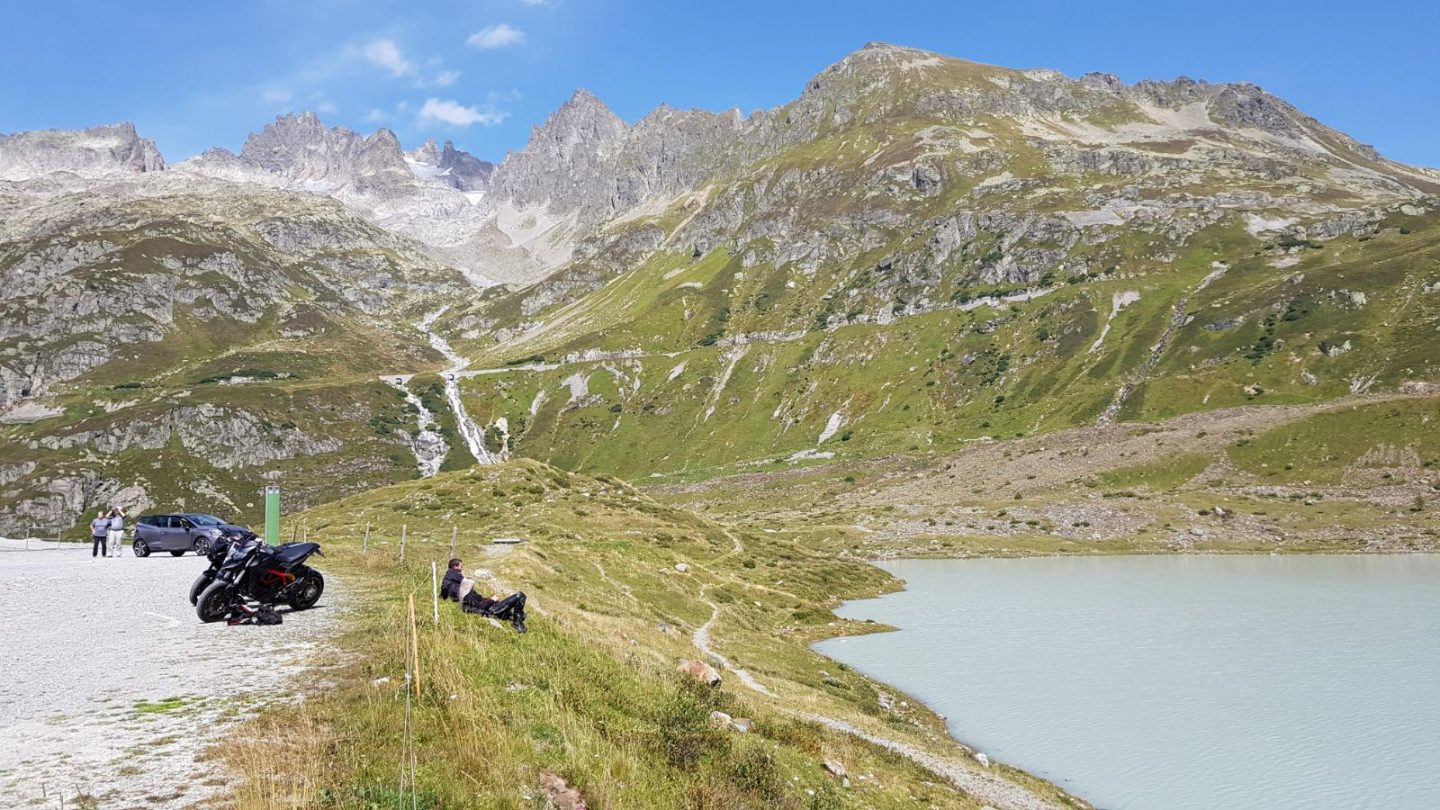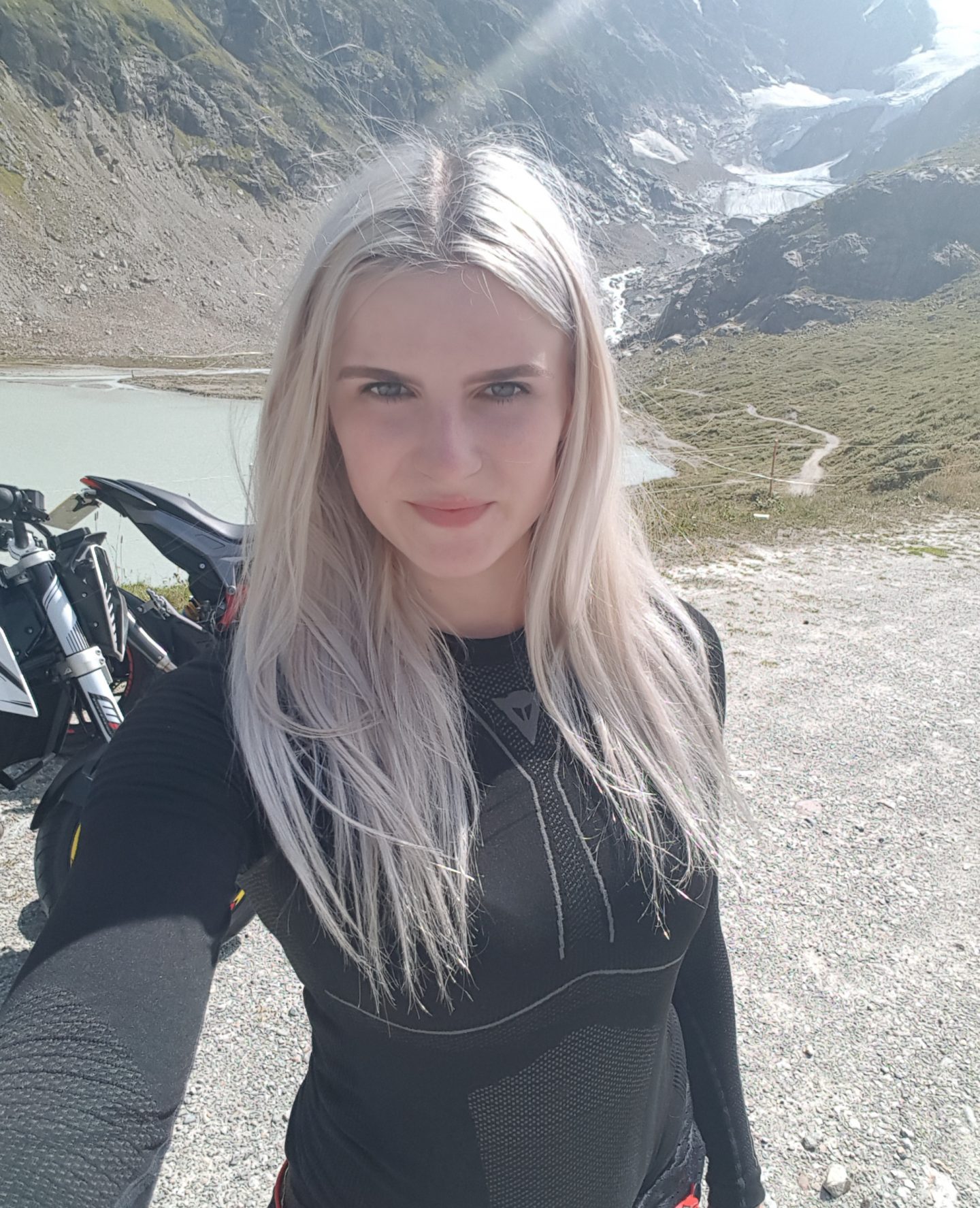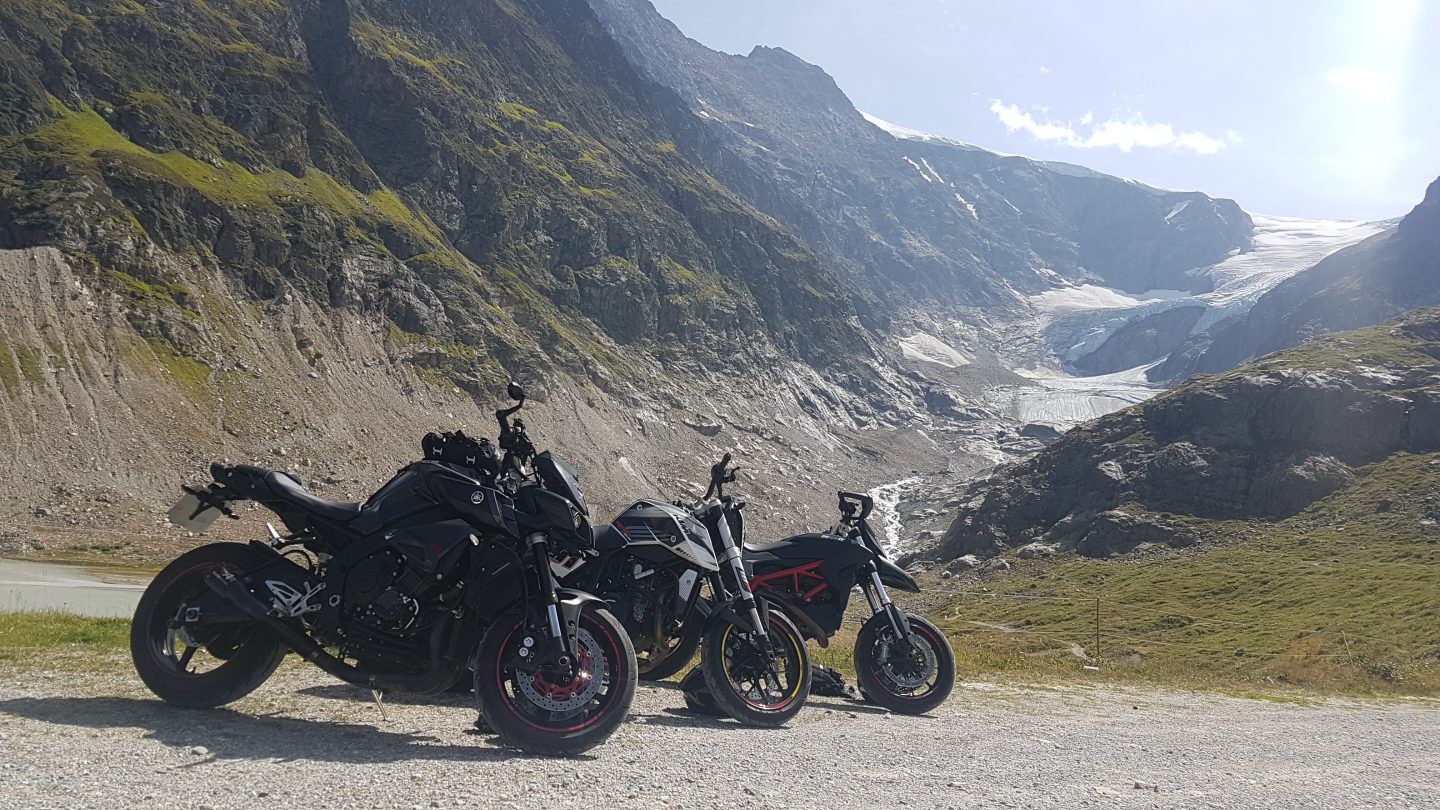 From here, we all agreed to head back to the Hotel Belvédère at the Furka and visit the Glacier behind the Café there. On the way back to the Furka, we got to ride some of the most beautiful and flowy roads that Switzerland has to offer. I will always remember them.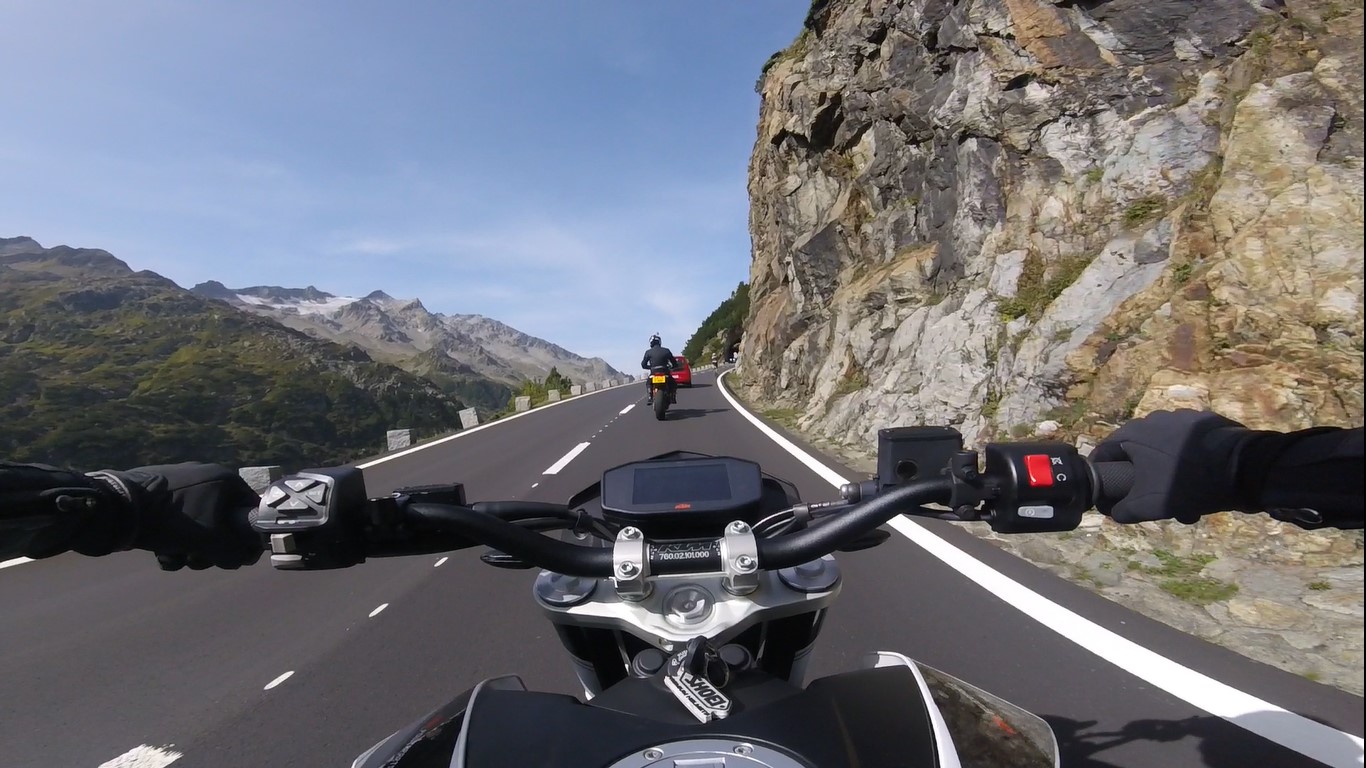 On the way to the Grimsel earlier in the day, before we met up with Jamwheel, we stopped here to take pictures of the iconic hotel, however we were completely unaware there was a Glacier behind the Cafe that was in front of the hotel (directly behind me when I took this photo) that you could pay 9 euros to walk around inside! So that was the plan, and off we went.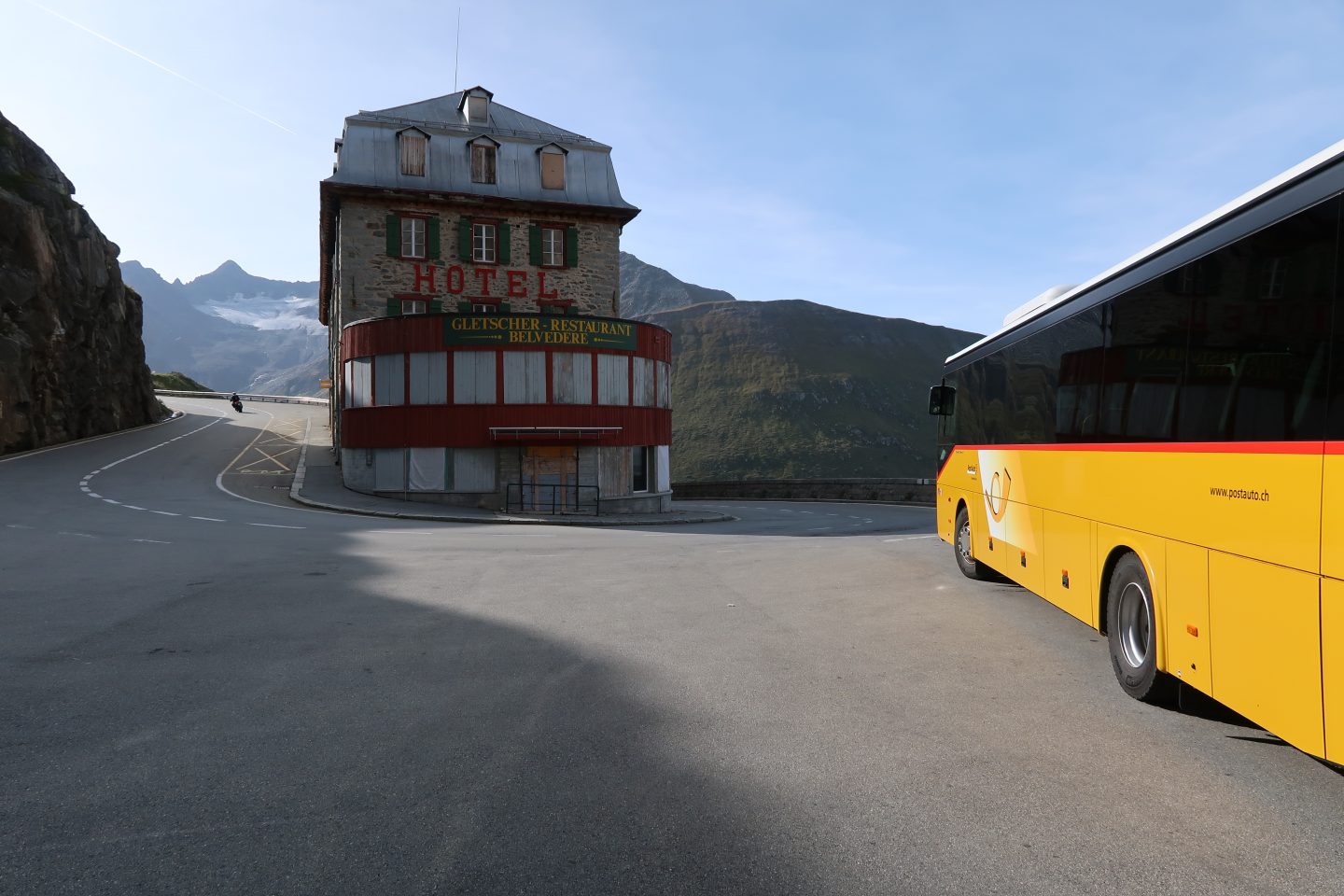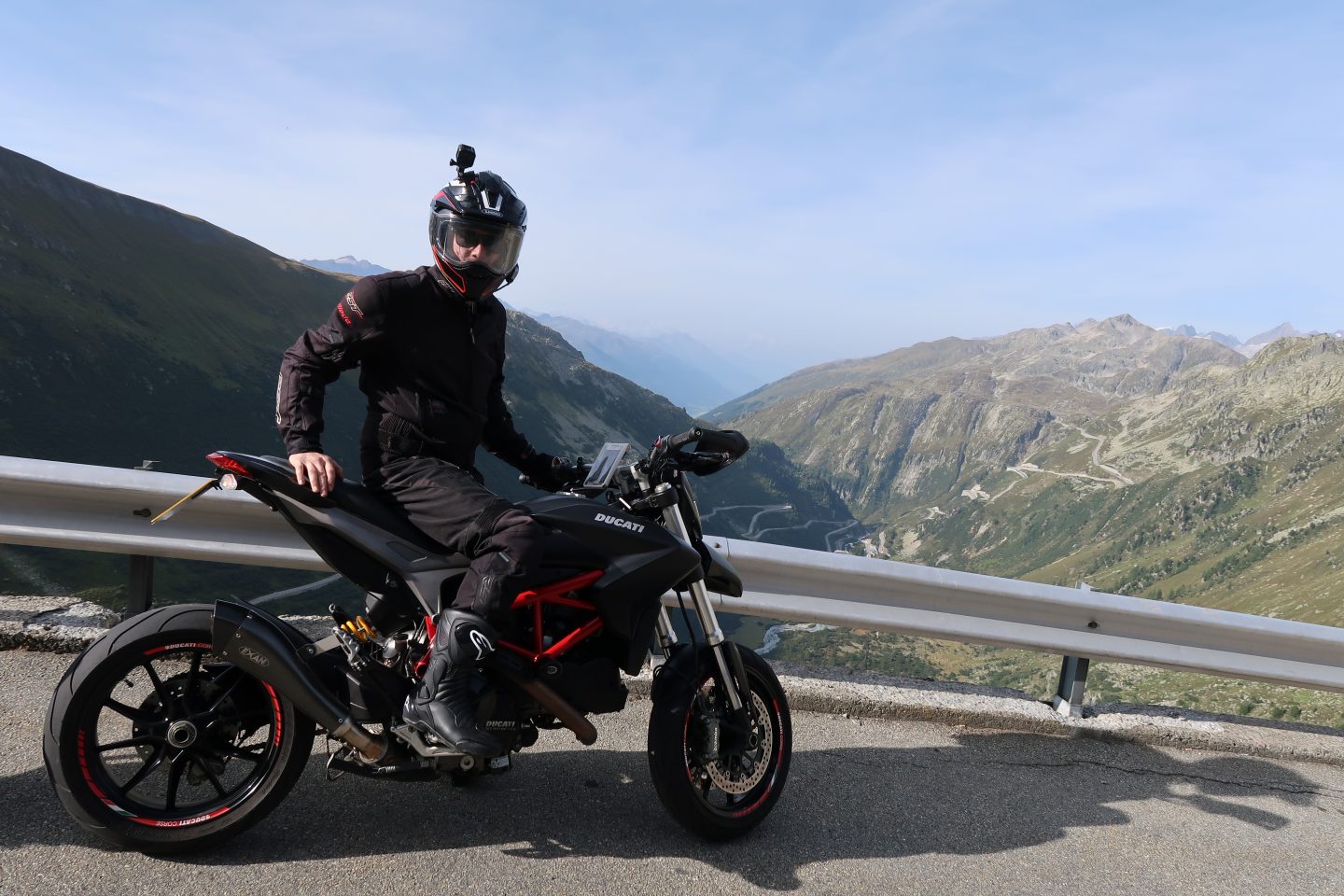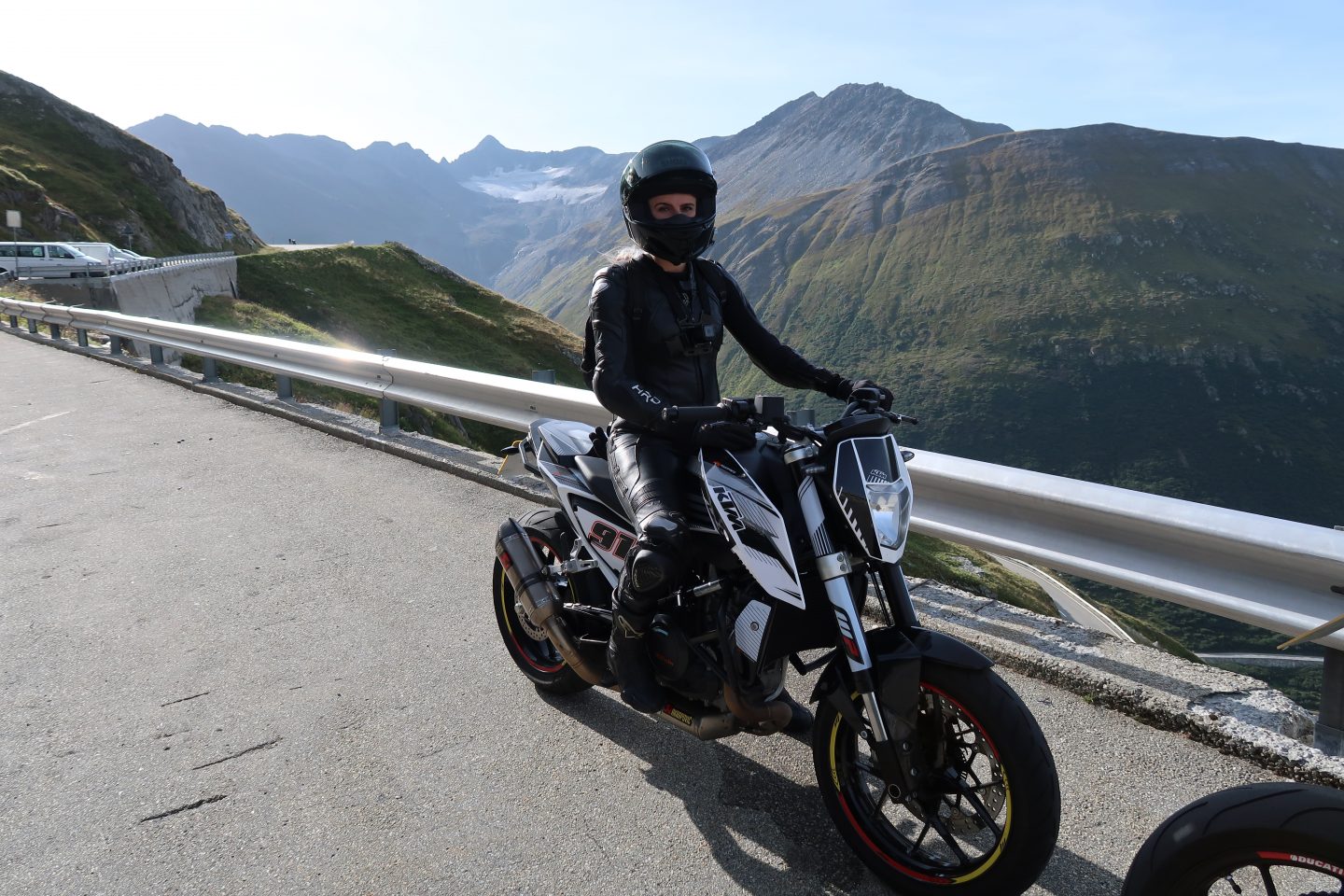 Once we arrived there, we parked up, paid our money and went inside the Glacier. It was lovely to walk through and incredible to look at the layers of ice that had formed over the years. It was also lovely and cold walking through it, as we had been baking in our leathers.
After we had finished looking around the Glacier, we went back to the bikes and bid our farewell to Jamwheel. He was honestly such a lovely guy and he set a really good pace around the passes. A pace that was fun, but not out of our comfort zones. He likes to remain Anonymous on all social media, so the picture below is the best picture you will get of him!
You can follow him on his Instagram here: https://www.instagram.com/jamwheel/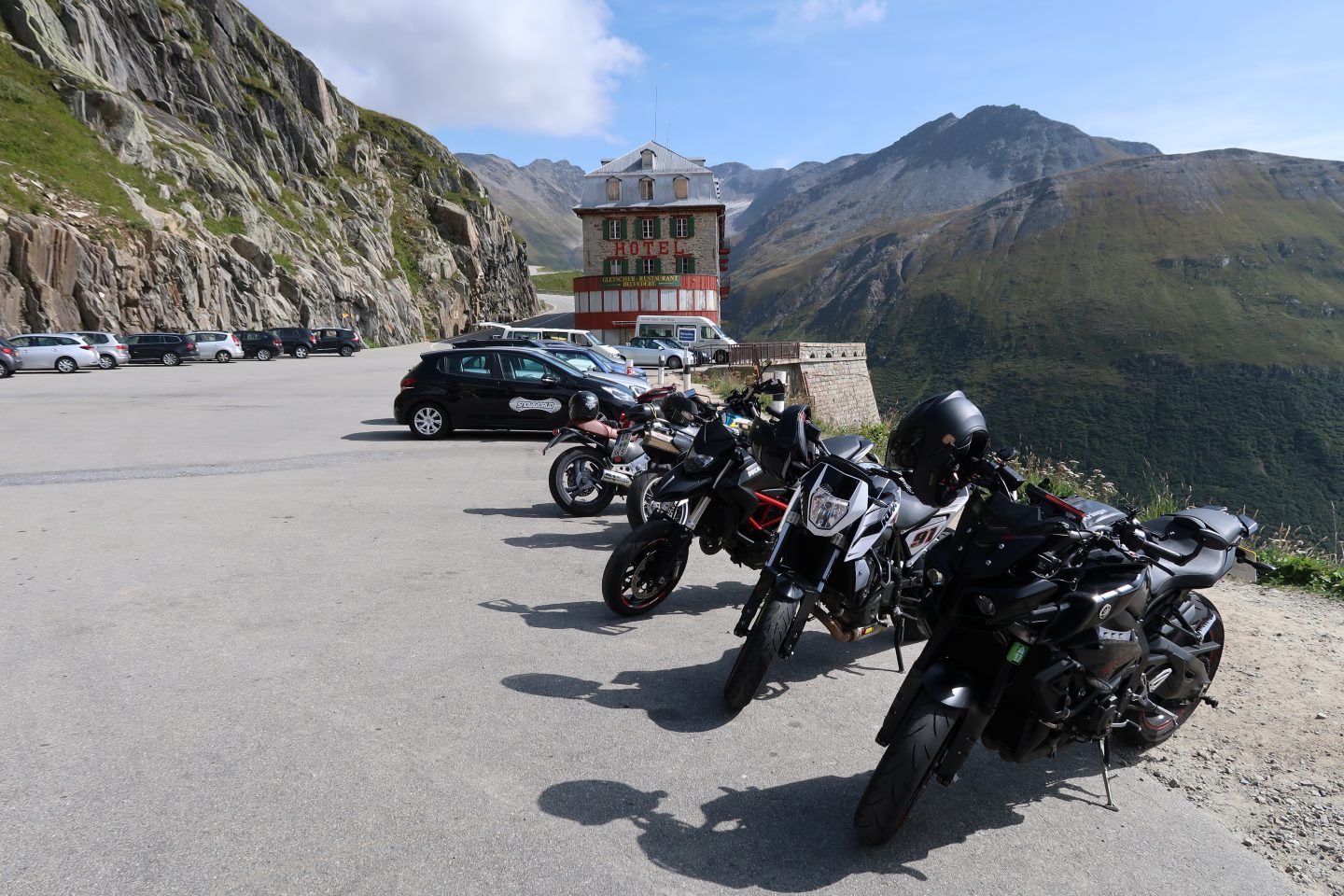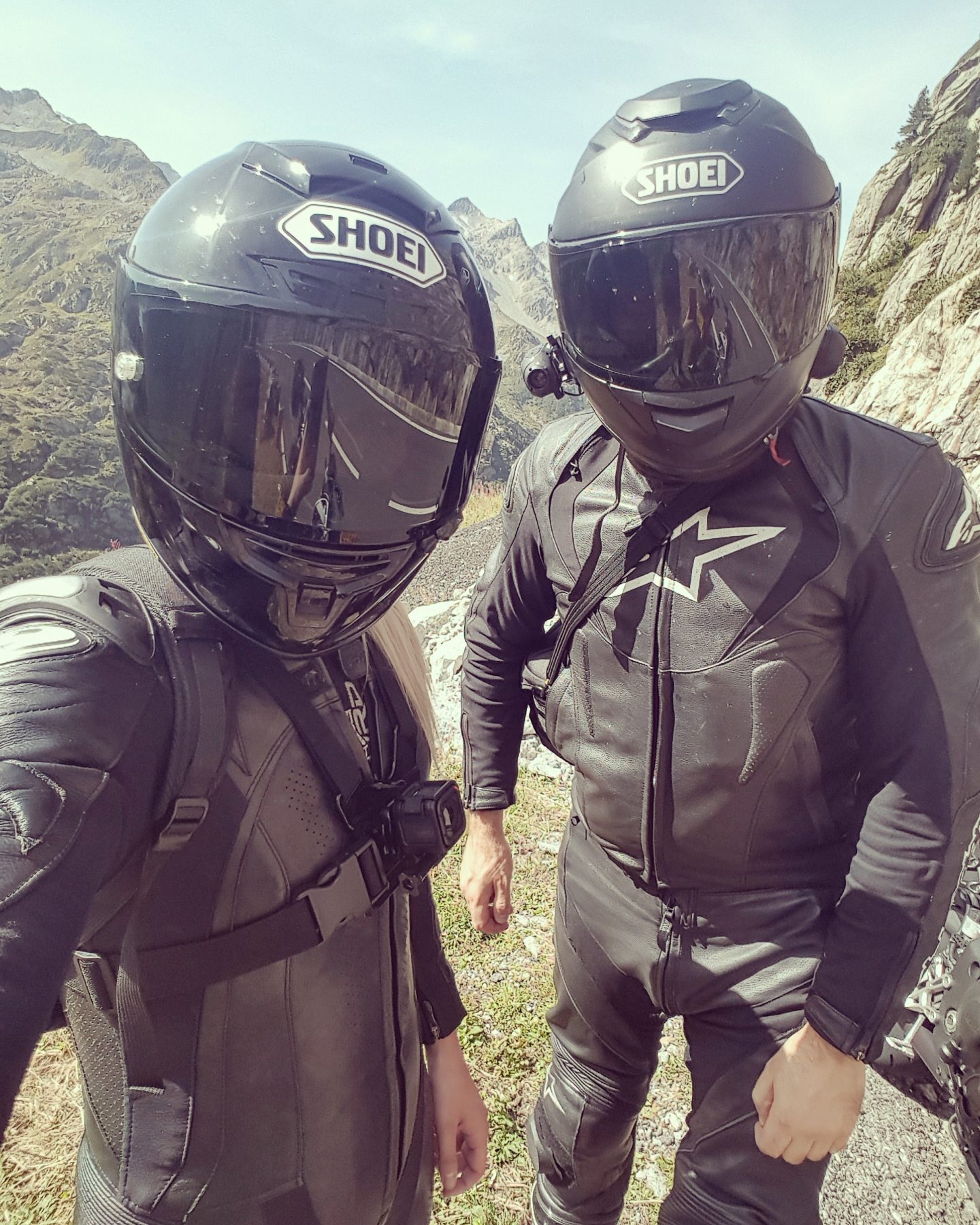 At this point, I was so tired, physically and mentally, so me and mike decided we would have a chilled ride back to Andermatt, where the campsite was. This unfortunately went out the window when we spotted a Ducati Monster in the distance being ridden by a woman. She had a Swiss reg on and you could tell she was local as she was flying down the Furka Pass. I was so exhausted, I thought here we go, as I knew Mike would want to play. I was pushing hard to keep with them but with sheer drops at the base of the hairpins, I decided to let the children play and hung back a bit. Mike was told, this is the only time you're allowed to chase other women. He just laughed down the intercom.
When we arrived back at the campsite, we parked the bikes up, got out of our bike gear and headed to a bike friendly restaurant across the road called Hotel Aurora. We knew it was biker friendly as it had many bikes parked up outside of it and looked quite busy with bikers. Now, I mentioned that Switzerland is expensive. We ordered a Goulash soup, a Bratwurst and a Hash brown, along with 2 Colas and it came to 43 Swiss francs, the equivalent of £38… for a soup, sausage and hash brown!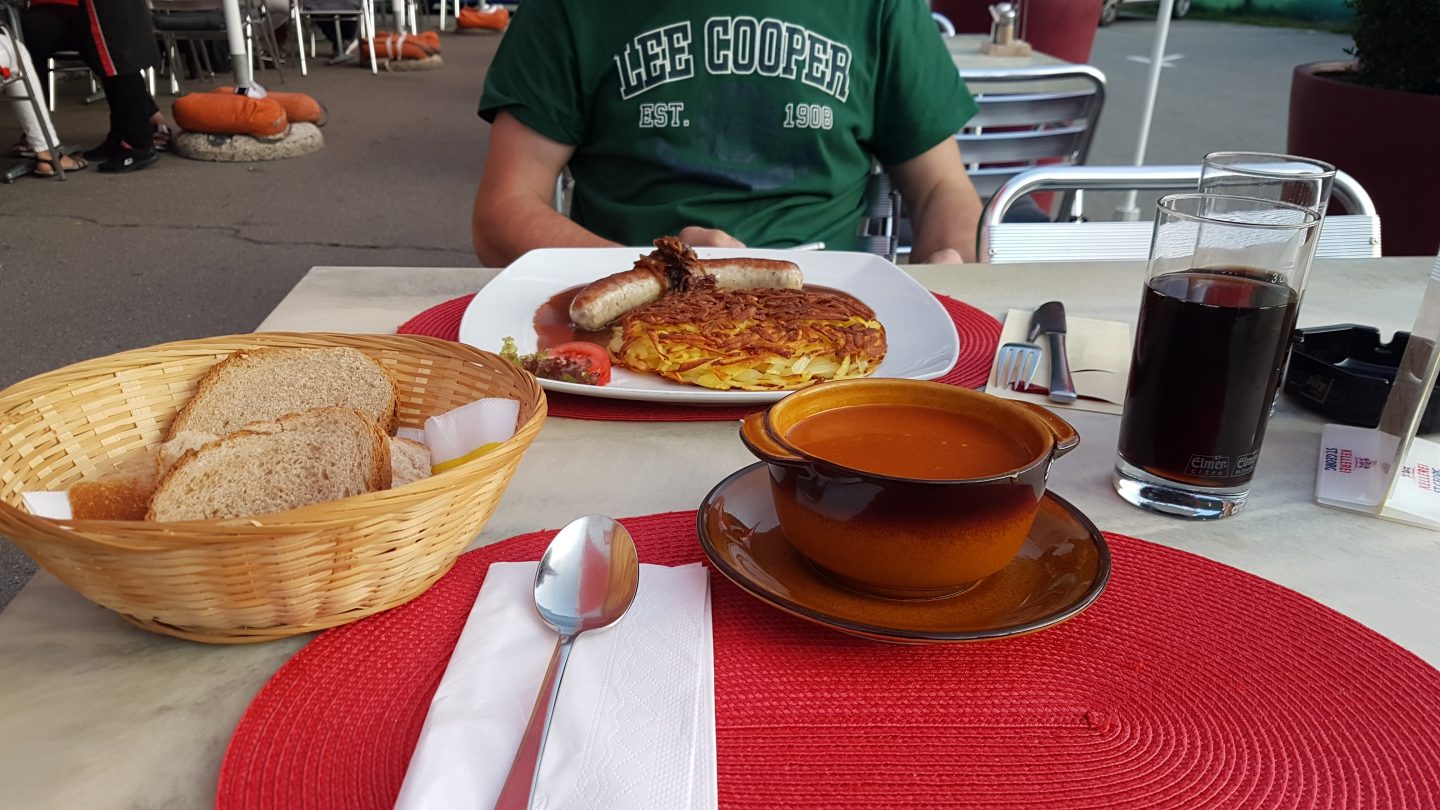 As it didn't fill us up, we went to the local Co-op and bought lamb chops, which we cooked on our disposable BBQ back at the van and ate the meat off the bone like the savages we are.
After tea, we both showered and got ready for the night. In the distance, we could see black clouds coming in over the mountains and if any of you have been to the alps before, you know that it can go from beautiful weather to extreme downpour in 0.089574 seconds.
We pushed stuff that we didn't want to get wet under the van (like fold-away chairs) and everything else came in the van with us. Then the downpour came. We both jumped in the van and slammed the doors shut. I dried my hair in the van with my hair dryer as I'd just had a shower and let's just say it got pretty warm inside the van! As we went to sleep, the rain was relentless and hammered down on the roof all night until the morning. It was kind of therapeutic, but did make us need the loo! There was no way, however, that we were wading through an alpine storm to get to the toilets. It was torrential that night.
In the morning, we woke up, opened the van doors, looked at our poor bikes that had weathered the storm. We decided we wanted to leave as early as possible so we could get to our next destination earlier and still have some decent daylight to ride in… so off to a small town called Nauders we went. We chose this town as it was in Southern Austria and close to the Italian border and we wanted to stay in Austria for a night. Here, we were only 1 hour away from the Stelvio, and the road to it seemed fairly decent on google maps.
It took us roughly 4 hours to get to our hotel in Nauders, Hotel Bergblick. Once there, we knew from the forecast that later in the day, it was supposed to rain, and this was our only allocated day to do the Stelvio Pass, before heading up to Germany for the final stretch of the holiday. As we arrived at the stunning Hotel Bergblick, and believe me it was the best hotel we'd stayed in, I went to check in as Mike unloaded the bikes. Upon opening the van doors, it became obvious that my bike was as tired as me, and decided to take a little nap! The tie down had failed and ripped the wooden panel out the van meaning my KTM Duke 690 had fallen onto Mike's Ducati. Mike took the bikes out and there was no damage… thankfully!!!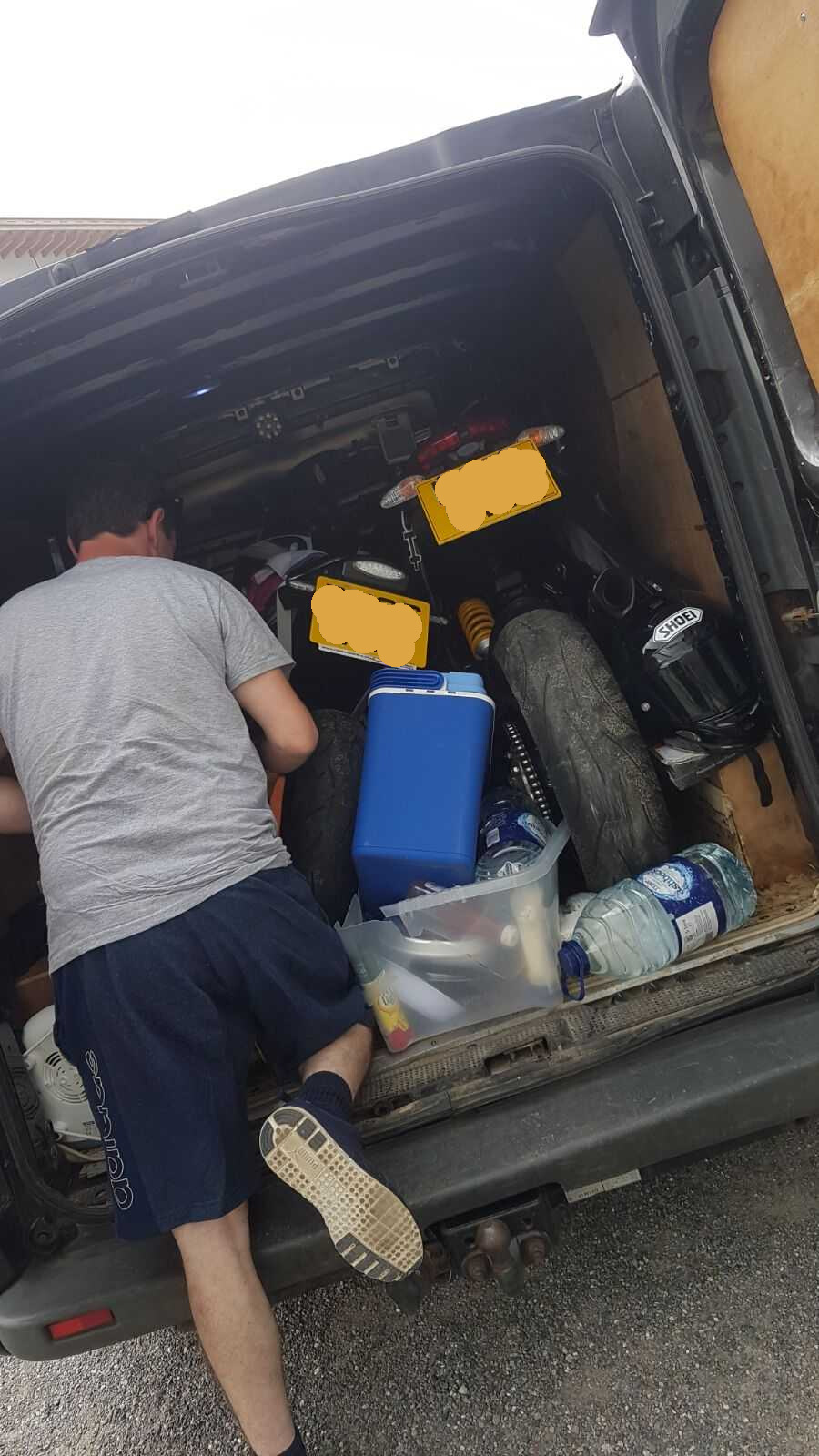 As soon as the bikes were out and we were checked into the hotel, we didn't even have a look at our room, we just threw on our bike gear and off out we went!
On the way, we crossed the Italian border, and got down poured on, but this didn't dishearten us as we were excited to begin the Stelvio pass. As soon as we got there, the roads got twistier, and it was drying up nicely. Mike was behind me on at the beginning of the pass, but I much prefer to follow, especially in something as technical as the Stelvio. I feel instantly more comfortable as Mike took the lead. I wouldn't recommend this road to the inexperienced, or people that aren't fully comfortable with their bike. Mike didn't struggle in the slightest, but it took a lot of concentration from me. Especially as the hair pins are incredibly tight and steep. As you go around right handers, you have to go completely on the wrong side of the road or else you aren't making it round the bend, as they're that sharp. As you are constantly climbing up higher, it's hard to turn your head to see whether anything is approaching that will come around the hairpin on their side of the road, so you have to be as vigilant as possible. Thankfully on that day, there was hardly any traffic on the pass, as you hear stories about the Stelvio being chockablock in Summer with cars, bikes, vans and even buses (not that I'll ever understand how they get those buses around those hairpins!) Along the way, we stopped at various laybys and viewpoints for pictures before carrying on to the top.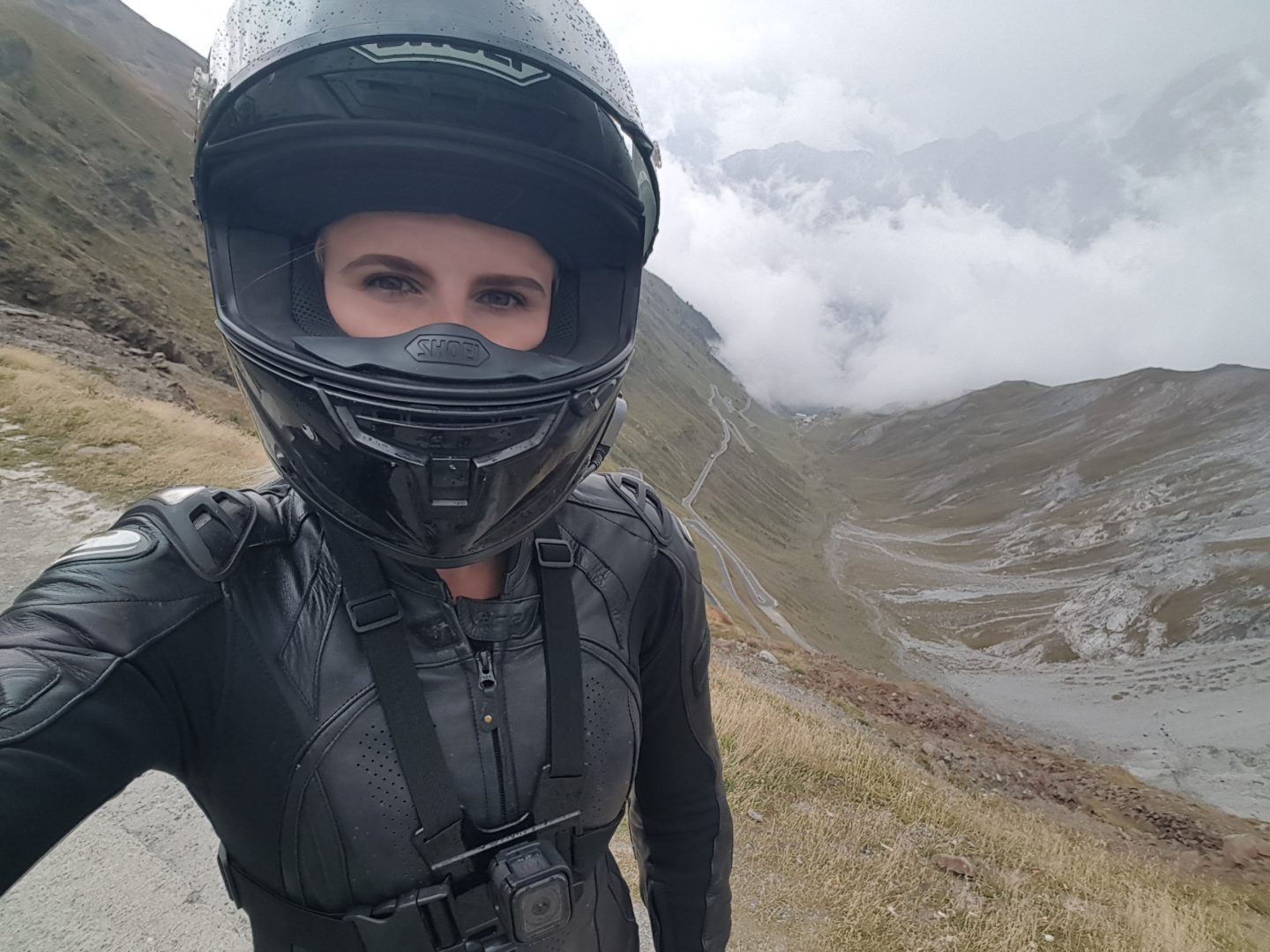 At the top, we pulled up at the Tibet Panoramic Café, just in time to be pelted with violent hail stone. We parked the bikes up as quickly as possible and ran to the Café to seek shelter. At the top, we waited for the hail to clear, whilst drinking a less expensive latte and admiring the view from the comfort of the warmth.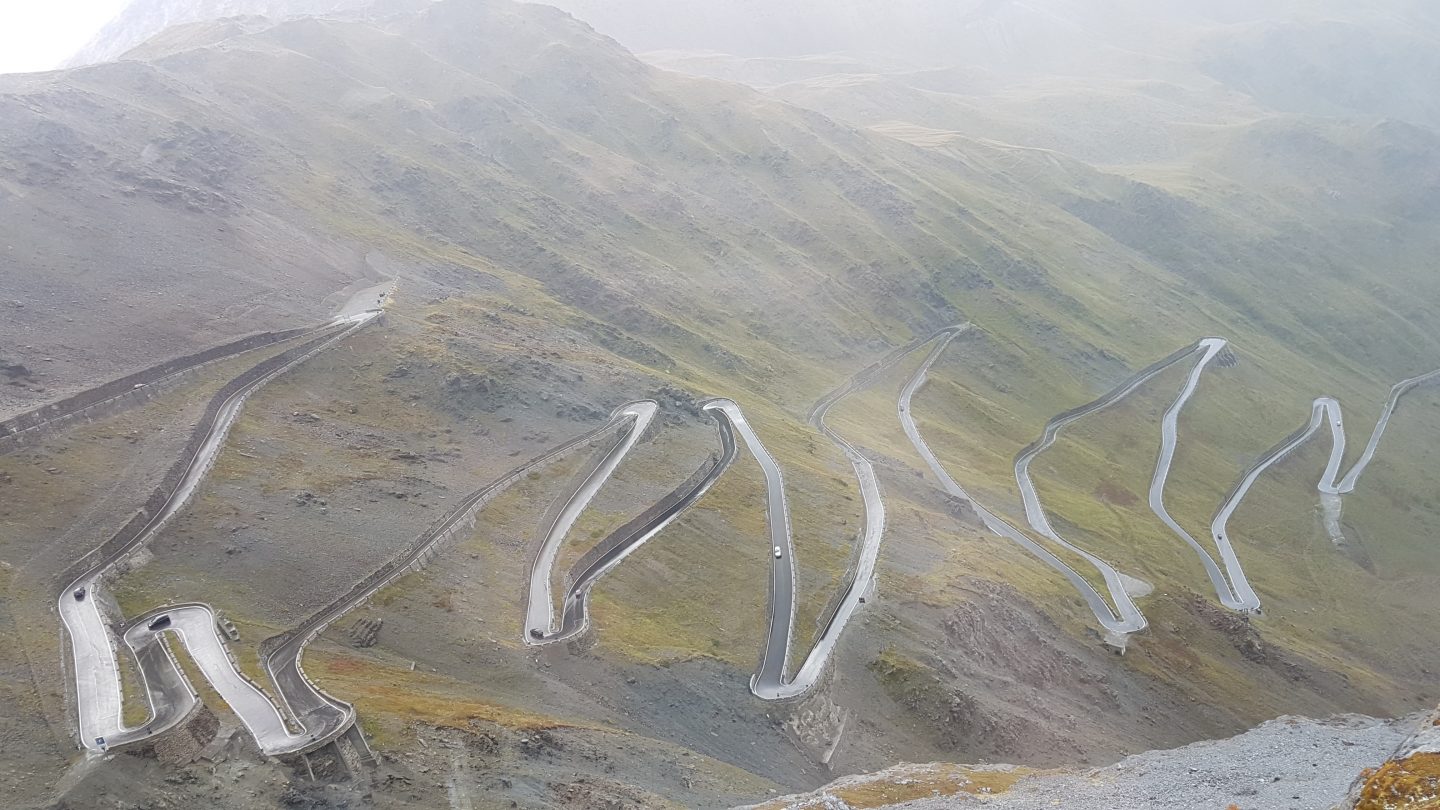 I was bricking it, as this pass was quite challenging for me in the damp, never mind in the hail stone! After we drank our lattes and had a quick toilet stop, we jumped back on our bikes and headed back down. Only this time, we went down the other side of the Stelvio, the back road and let me tell you, it is just as fun! Plenty of hairpins and challenging roads but surrounded mostly by forestry. Also on the way back down, there was lots of painted graffiti on the roads, in pastel colours, almost like there had been a race there at some point or a celebration had taken place there one time. On the way back, we got absolutely drenched as it bucketed it down. It was a nice time to test my Metzeler M7RRs as I hadn't ridden with them in the wet before, especially putting them through hairpin after hairpin, chicane after chicane. They held up amazingly well and they allowed for a decent pace on the way back down as I had full confidence in them.
When we got back, we loaded the bikes back up in the rain, took our electrics, clothes and wash bags out of the van and trudged to our hotel room. Wow was all I could say. The room was beautiful, pine furniture and walls, a lovely tartan carpet and a stunning modern wet room. It was heaven! This room cost 88 Euros for 2 people and again, we booked it on the journey into Austria via Booking.com. Our balcony view was incredible, just a shame the weather wasn't on our side.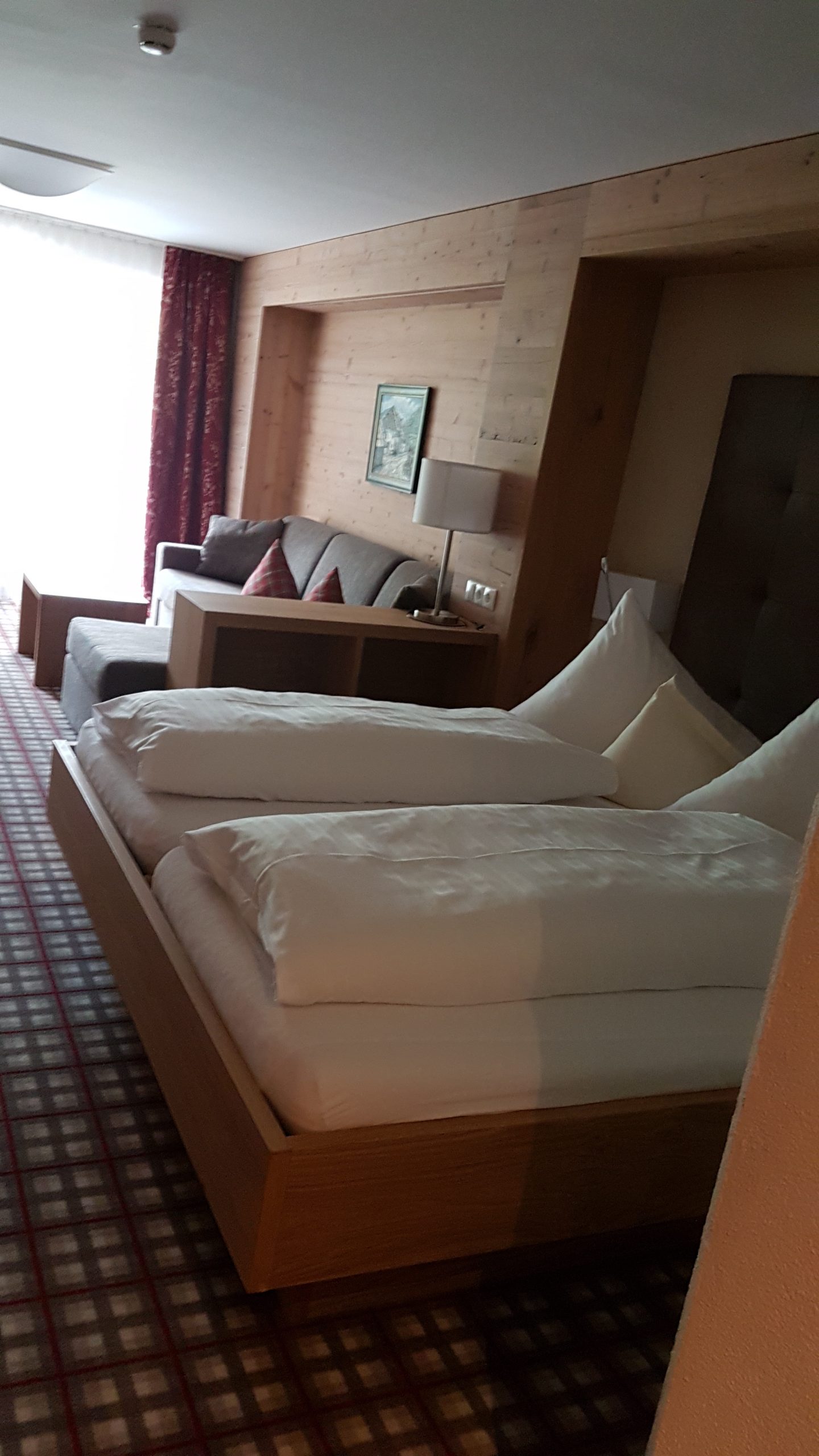 After a relaxing night and watching a film on the laptop, we went to sleep. We were up for breakfast at around 8.30am and checked out at 10am ready for the most soul-destroying trip of the journey so far!
Today was the day we started making an effort to get a bit closer to Calais for when it was time to head back. So, we decided to go to Germany, the home of the notorious Nürburgring. I contacted some German friends who live in Sankt Augustin, to see if we could crash at their house for a few nights, and thankfully they said yes. As Mike punched their address into Google maps on his phone, the duration of the journey was showing as 7 hours 19 mins. However, a few hours into this trip, it was clear it wasn't going to be smooth sailing. Brake lights for miles and miles and miles. That is all we could see. It was horrendous. It started raining so hard and we felt sorry for the bikers filtering through the traffic and battling the torrential rain… all from the shelter of the van…. whilst we munched on Haribo's.  The drive, with delays, ended up lasting 10. 5 hours and we arrived at Bernard and Gabi's house quite late.  We'd stopped off for a Burger King on route so thankfully we didn't need to eat on arrival but we were welcomed, as always with a nice, warm coffee.
Alarms sounded the next morning and we decided to check the weather app. To Nürburgring or not to Nürburgring? That was the question… but the weather looked shocking for the day, so we decided to visit a massive indoor swimming complex 45 mins away from where we were staying. It was called Aqualand in Koln and at first glance, the place looked a little trippy! Inside however, it was epic with massive swimming pools with currents that pulled you around. The complex was filled with giant slides and slides where they sealed you into a vertical slide and the floor dropped from underneath you, causing your stomach to do somersaults! There were saunas, hot tubs with bubbles, a large, heated smooth rock where you could just lie down and relax and many other attractions. If you hadn't brought swimming gear, you could buy it there, and it was actually quite stylish! The choice of food there was brilliant as well! You could buy half chicken and chips, massive pizzas, schnitzels, the lot.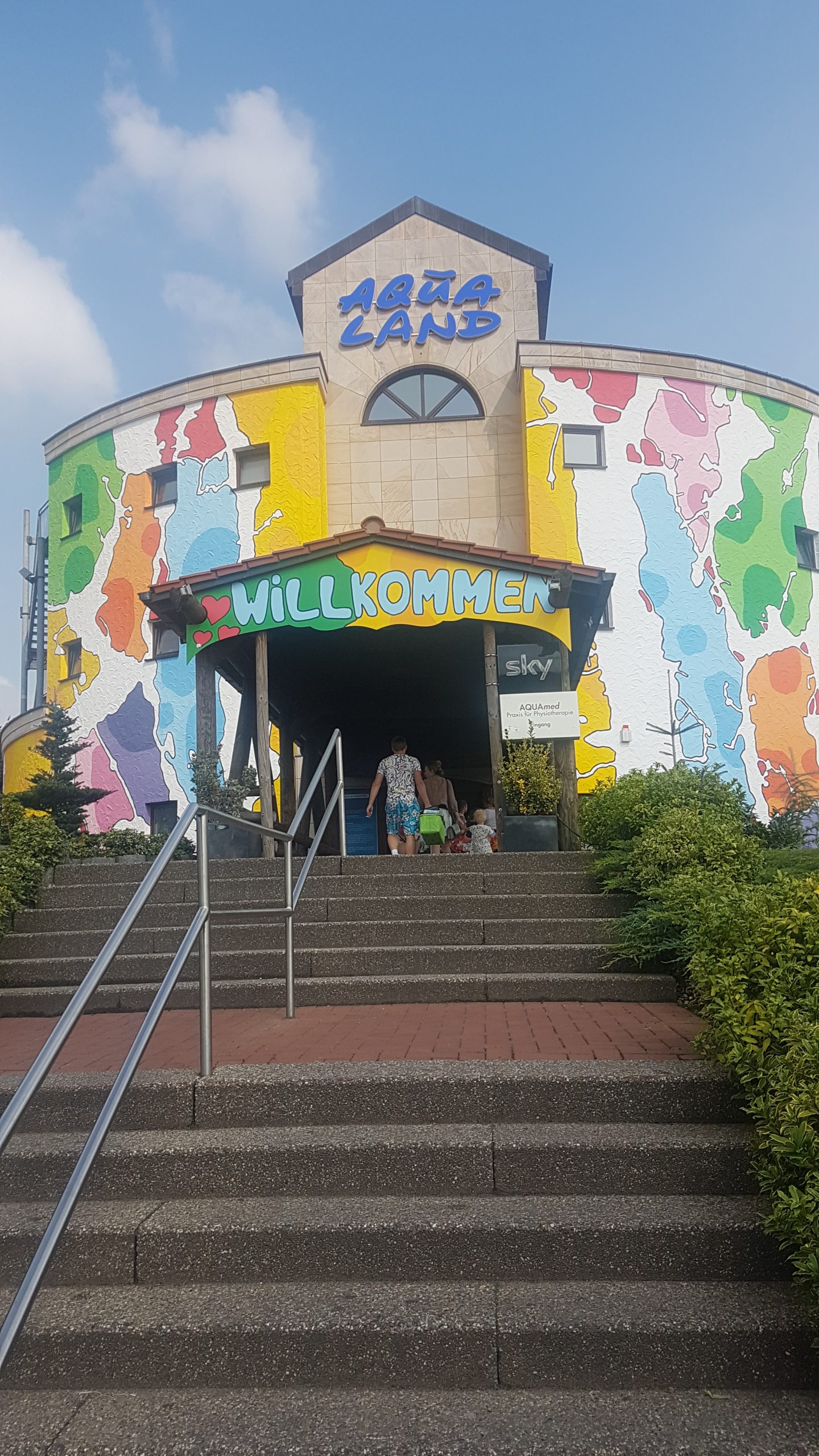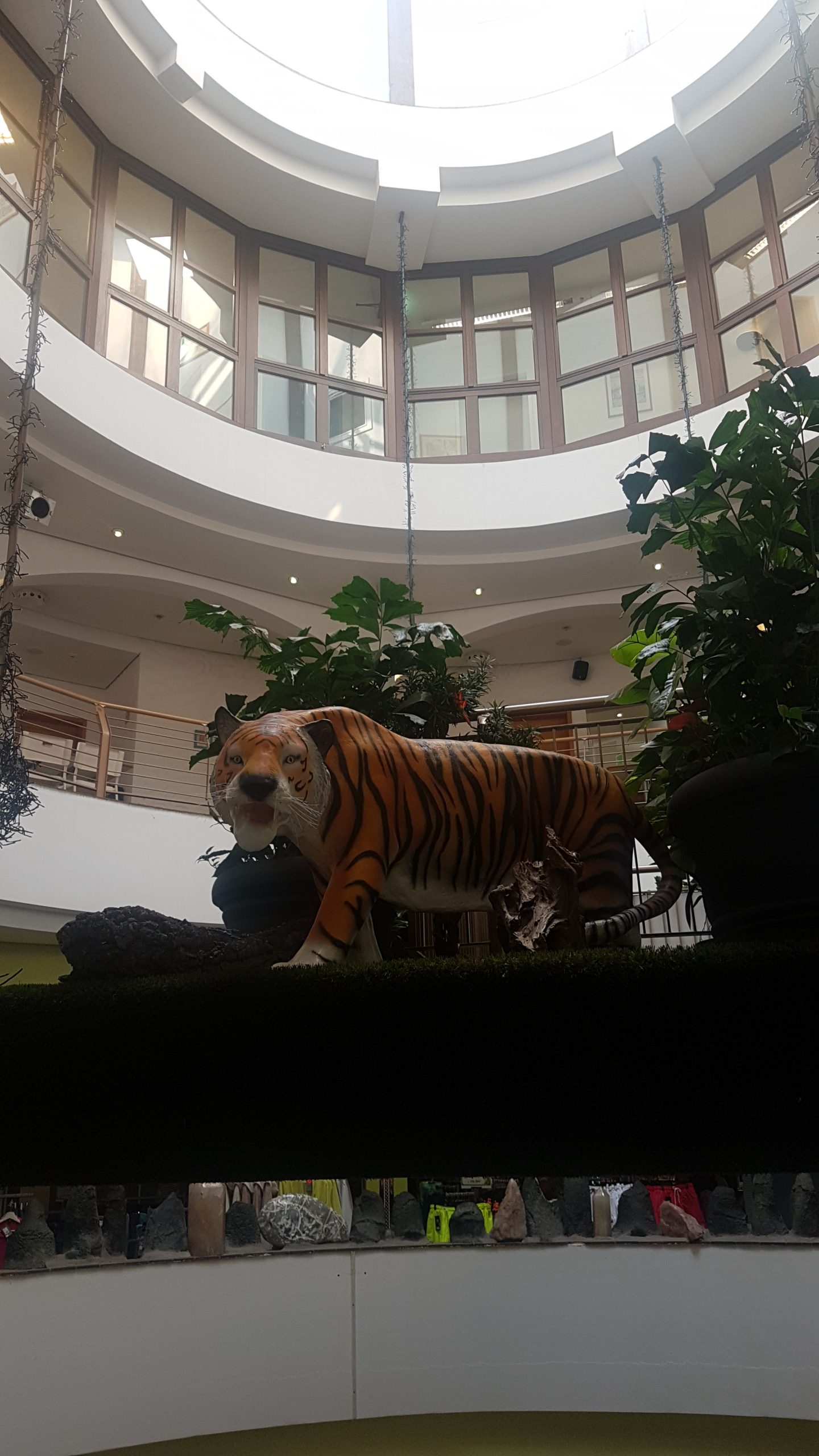 After we'd spent a good few hours here, we went back to Sankt Augustin. Here, we spent the evening with Gabi and  we enjoyed telling her about the trials and tribulations of our trip via google translate audio… the miracles of technology aye?
In truth, we had both fallen asleep by 8pm so when the morning came around, it meant one thing and one thing only… Nürburgring time. The weather app showed dry with cloud (we could live with that) so we packed up our belongings, said our goodbyes and hit the road.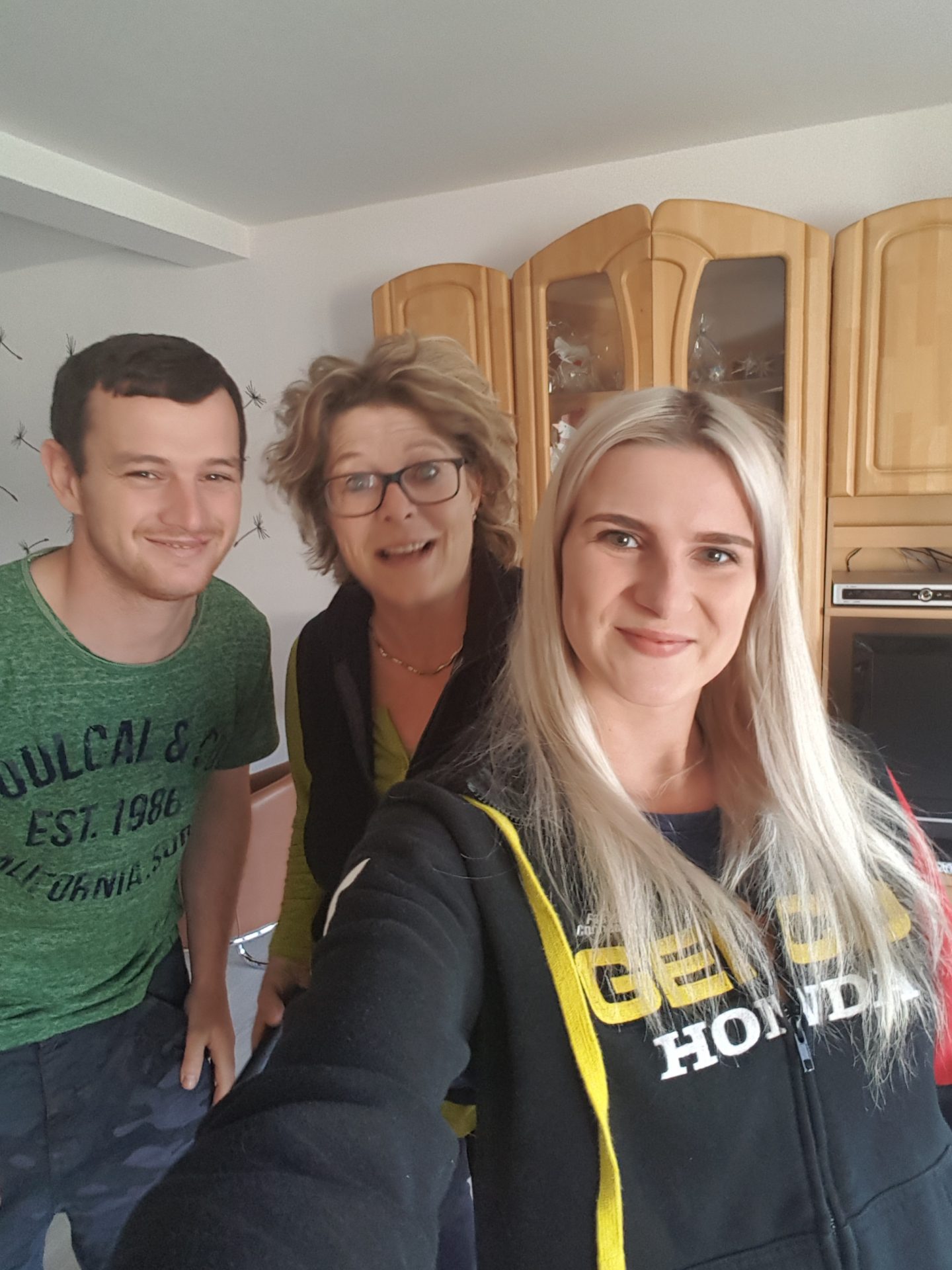 The Nürburgring is only around 45 mins from Sankt Augustin so we drove to a supermarket car park in the next town to the Nürburgring and began to unload the bikes, put our mirrors back on ready to ride to the spot where you sign on for the Ring!
Mike got our Green Hell Cards (a plastic card with a sensor to get you through the barriers – with rather apt name…) as I pulled forward on my bike to scan myself through the barriers, a crazy Dutch man ran towards me and said, 'be careful out there, it's very, very wet, take it slowly' – just before going onto the Ring was not the point I needed to find out that the weather app had lied! It was cloudy and there was no rain yet, but as soon as mike ragged it off in front of me on the track, the spray off his rear wheel was a wake-up call that I needed to be very careful, and the Dutch guy was right for telling me to take it easy, as there are parts that were slippy as hell!!! So, after feeling the rear of the bike slipping slightly a few times, you can imagine how disheartened I was when the heavens opened mid track. We only did half a lap and decided to wait for it to dry out. So, we came off at the exit/entrance to the ring that was on the other side. Note there are 2 entrance points to the ring and where we paid to get on, we paid for 1.5 laps, as that side takes you round to the main track entrance, where you can continue to do a full lap.
After a few closures due to crashes and waiting around, we decided to wait until the track had dried out a bit. That day, we spent 260 Euros on 8 laps in total, 4 laps each. I guess you can't take it with you can you! And you only live once…
I felt more and more confident as the laps went on, the Nürburgring is something like 13 miles long, so it's not like doing 3 laps around Mallory Park in the UK and then you know the track. There are many things to consider on the ring. If you're on a road bike, and you're just a normal Joe blog like us, you'll probably shift a bit if you go on there, but you won't be breaking any records. The cars on there are scarily fast, glance in your mirrors… super car, glance again super car… wonder what's flying up behind you? You've guessed it, SUPER CAR. So, whilst you may feel you're pushing on a bit, you can't play the track warrior, because in reality, you're a tiny fish, in an ocean full of sharks, and they're coming for you! Many die hard car attendees argue that bikes shouldn't be allowed around the Nürburgring, claiming bikers slow them down and present a danger to everyone. But, it is what it is and a milk float can go round there if it's road worthy. The way I see it, I'm helping them with their observation skills!
I only really had a few wobbles when the track was wet. Mike had a few squeaky bum moments, but he was going a lot faster than me! Thing is, it really isn't worth crashing there, as these are the fines that will cost you dearly if you crash:
Circuit closure: €1,350 per hour
Recovery truck: €500 (inc VAT)
Base fee for attendance of armco truck: €150
Replacement armco: €31/metre (x2 or x3 for double/triple height)
Removing damaged armco: €10/metre (x2 or x3 or x4 for multiple-height sections)
Removing damaged armco posts: €5.10 each
Replacing armco post: €39 each
Safety car attendance: €82 per 30 mins (car + 2 people)
My KTM 690 Duke performed well, single cylinder screaming its knackers off. It has a full Akrapovic exhaust system on it so it sounds well when giving it the beans.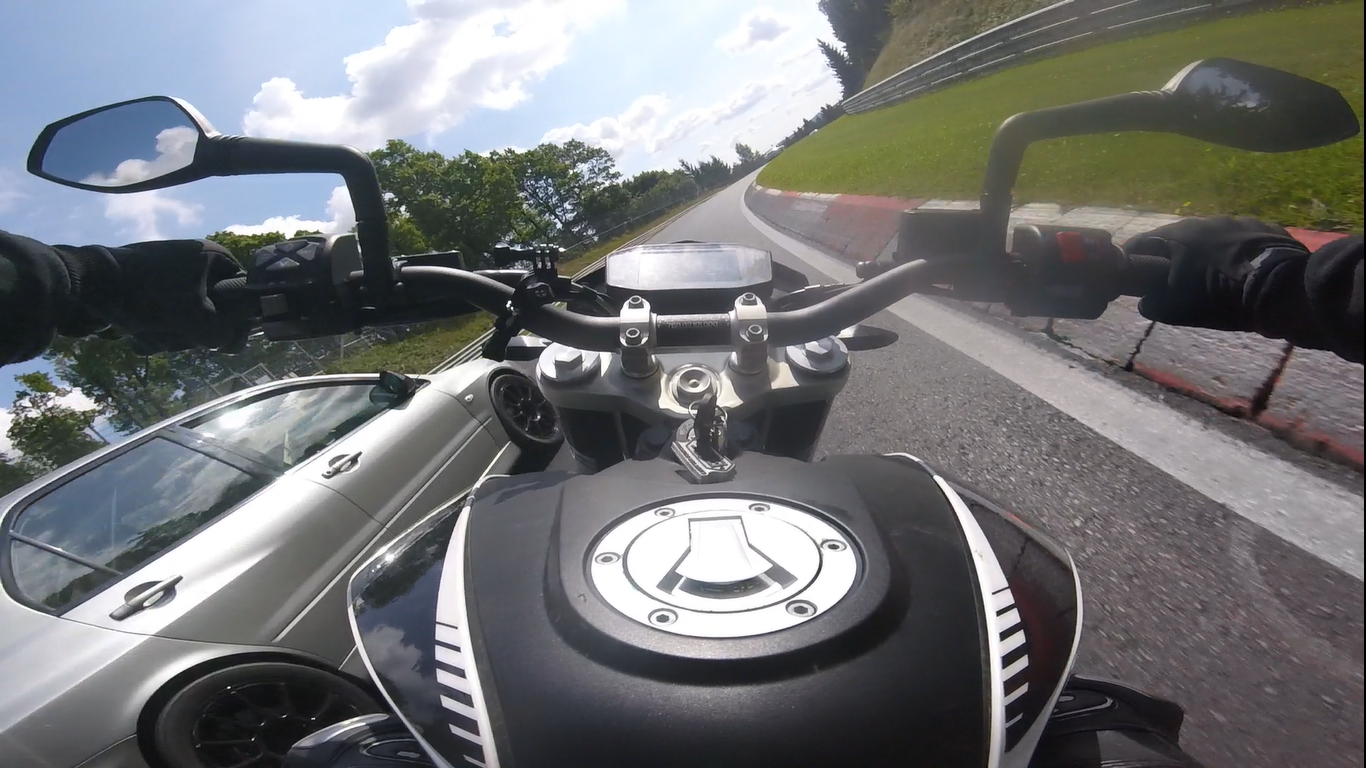 On one lap, Mike had zoomed off into the distance and I was under the assumption that he had paid for 1.5 laps. He had only paid for 1. So he came off the track and I was unaware he had as he wasn't in my sights. I carried on, but obviously I couldn't get through the barrier as Mike had our Green Hell Cards in his zipped pockets! As I soared past the exit, I glanced to my right and looked through the fence to the parking where everyone goes when they exit the track. I caught a glimpse of Mike who was laughing and waving at me. He probably thought 'Yes! I can leave her here now!'
After realising my error, I told the marshal that I had made a mistake and he told me to spin my bike round and ride back against the flow of traffic to the pits, as carefully as I could. The cars aren't going fast around this area thankfully. As I came off the track, Mike and some English guys just stood there with big smiles, laughing at me. Typical Kate.
We came off the track after 3 laps, satisfied and happy. Mike said, 'Right, time to go back to the van!' I said, 'Yeah I guess!' so off we headed back. On the way, back we stopped at the Cockpit Bistro which is a Café right outside the lesser used entrance to the Ring, where we originally entered the Nürburgring and where the crazy Dutch guy flagged me down. We got a burger at this Café and munched it with the sun shining on us. It had turned into a really beautiful day.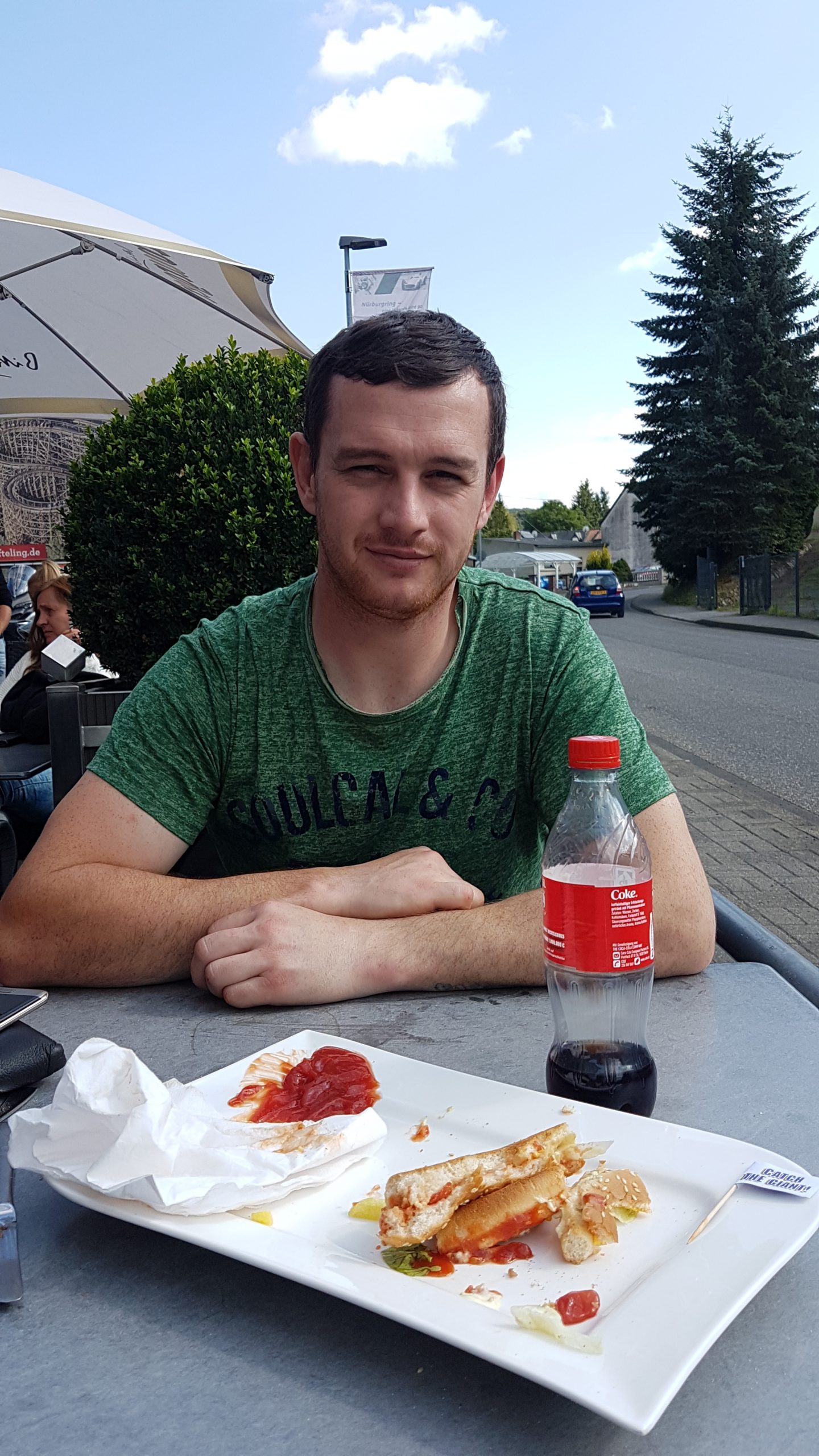 That's when Mike looked at me at me and said, 'Do you wanna go on again?'
I thought, hmm are we pushing our luck by doing our 4th lap of the trip? Is this gonna break my bank? or maybe my bones? or my bike? but then I thought about the last lap I did and how excited I was once on there and thought… Sod it! So off we rode, back to the main entrance for a final, farewell lap.
As we went on track for the last time, Mike just wheelied off into the distance chasing an M3, so I thought, go on Kate, push yourself a bit but don't kill yourself! It turned out to be my fastest lap at 11.35 mins. Mike had to wait for me to rock up as he was doing a sub 10-minute lap but I was proud of my riding. When I came to the pits and to the car park, one of the English guys Mike had befriended said 'Did you get lost?' because only 40 minutes ago we had told them that we were packing up and heading to France. We just smirked, we couldn't help ourselves!!!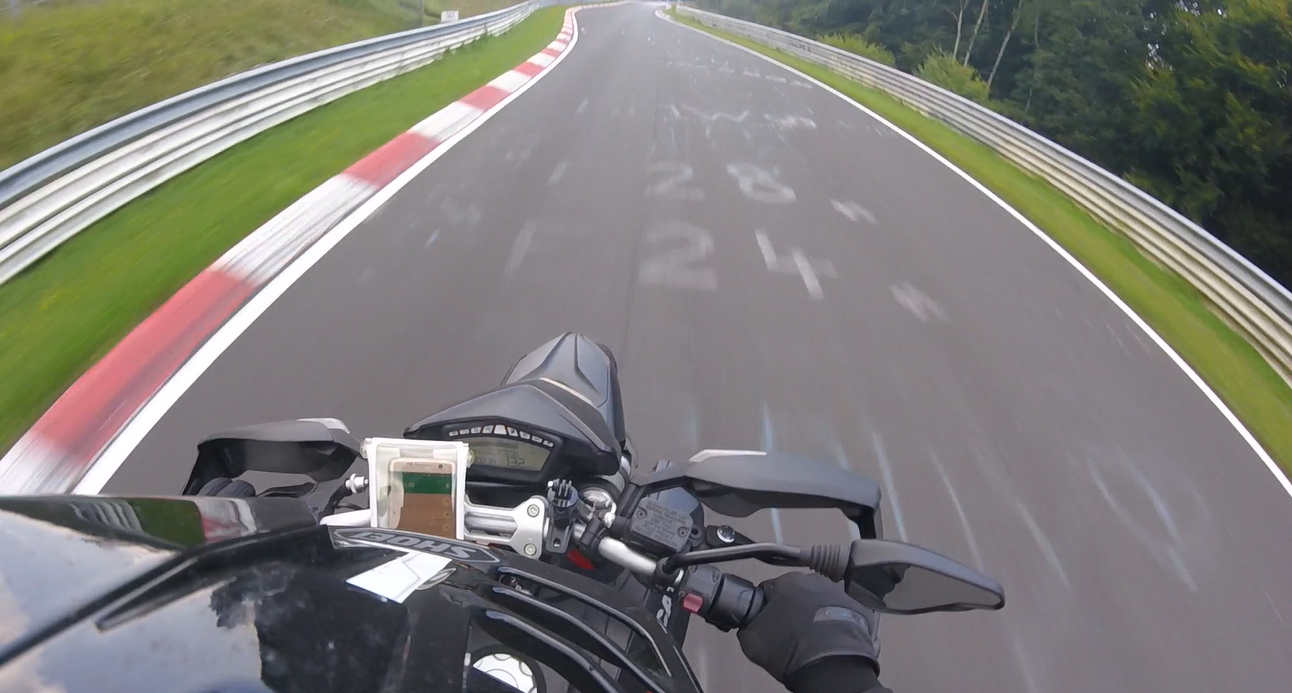 We headed to the van and actually made it back this time!
We looked at the clock and it was 5pm. We had planned to leave Germany and get a hotel closer to Calais for 2pm, but we clearly got carried away.
I found a hotel in Dunkirk, called Quality Hotel Dunkerque. Again, Booking.com was the saviour of the day and I reserved our room. On Google Maps, from the Nürburgring, the journey's duration was showing 4 hours and 40 mins. We arrived at our Hotel close to 10pm and we immediately checked in and then rushed right out again to get a Burger King as it was the only eating outlet open in the local area. It was roughly our 4th one of the trip and I LOVE Burger King but they were starting to become a little tedious! After we got back to the hotel, we showered and slept, ready for our Channel Tunnel departure the next day. We were only 45 minutes away from the tunnel, so the next day we had a little lie in and then went down for breakfast, which was quite nice.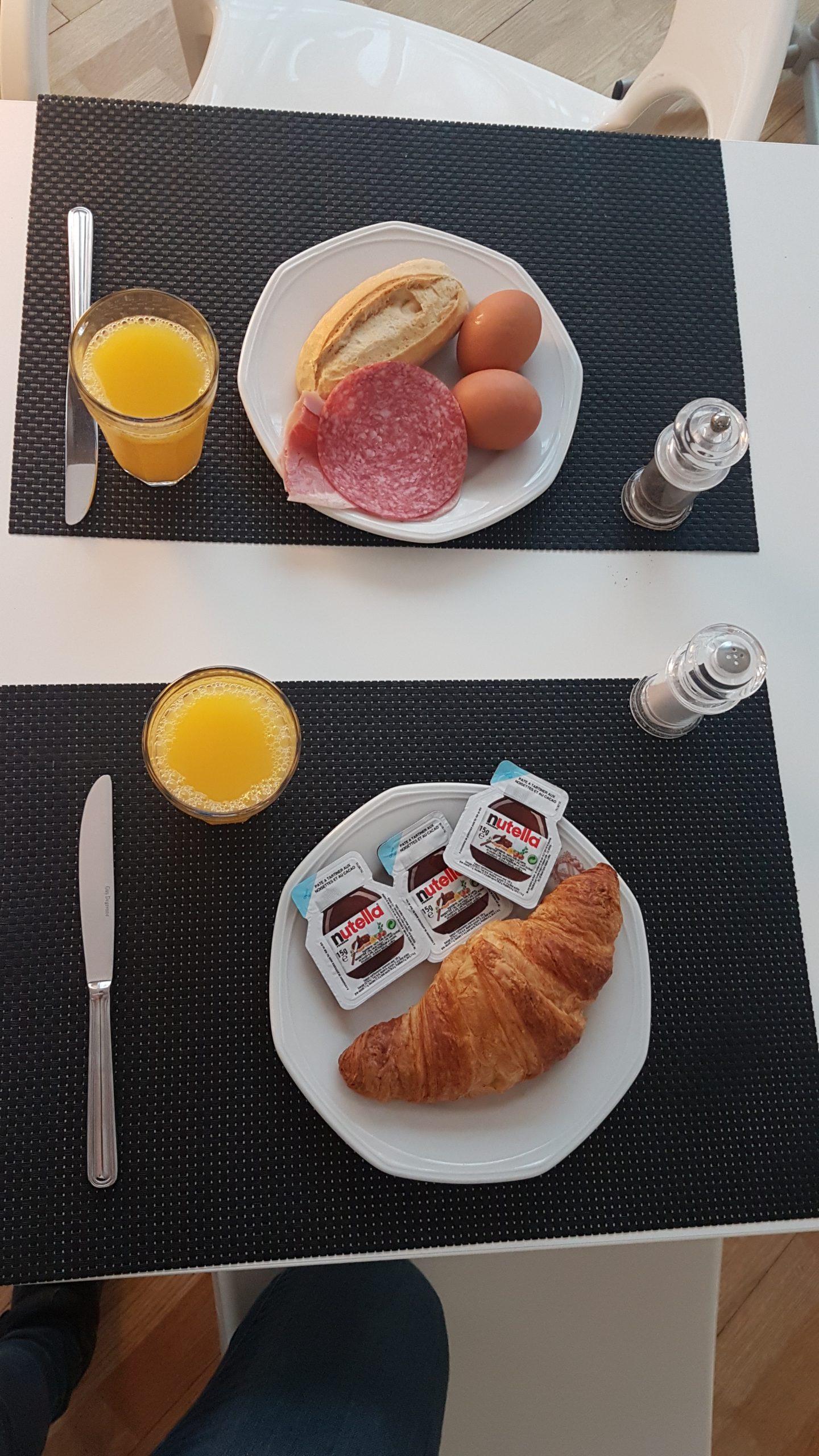 The room we stayed in was clean and extremely basic but it was cheap so we couldn't complain. We loaded the van with our clothes and wash bags and hit the road. We knew we would arrive at the Channel Tunnel early but we were hoping to get on an early crossing, which we managed.
We got stopped by border control at the Channel Tunnel and asked by the lady on the security podium what we had in the van. Mike said 'Motorbikes', to which she replied… 'PORCUPINES?' she was clearly a little hard of hearing! We laughed and said 'No, Motorbikes!', she laughed and said 'Well that makes more sense!'.
She said the weirdest thing she'd inspected in a van was a Crocodile, which was being transported from one zoo to another!
After getting swabbed for drugs as well and the results coming back clean, we were allowed on our way. After getting back in the UK, and bearing in mind Mike had done ALL the van driving through Europe, I decided to help him out and drive home to Manchester, so he could get some shut eye.
After a good 6 hour journey, we arrived at Home. Unpacked everything, threw a wash on and sat down with a nice kebab to watch some Go Pro footage from the most epic adventure we'd ever had!
7 days, 7 countries, 2 bikes and 1 couple. Mission accomplished.
We had the time of our lives! Here's to the next adventure!