For me, Instagram provides a huge source of inspiration and motivation.
As a female, I love seeing other women riders pushing the boundaries, smashing their goals and accomplishing everything they set out to achieve, whether it's on the track, in the dirt, on the road, on the drag strip or on the local car park stuntin'.
I wanted to create this mini series as a way of taking a moment to speak with and interview female instagrammers who I deem inspirational and who help reinforce the notion that, this isn't just a man's sport.
I have hand picked a select few women on Instagram who inspire me daily. How do they inspire me? They are strong, driven, intelligent women who uphold values and morals which I can personally relate to. I am inspired by women who are interested in improving their riding, pushing their personal limits and being positive role models to the up coming, future generations of girls who choose to pursue riding in some form or another.
My first interview, to introduce the new mini series, is with the wonderful Anna Rigby, although you may identify with her as RedSpade, a hardcore track addict from the US of A, with a fire in her stomach and a entrepreneurial spirit.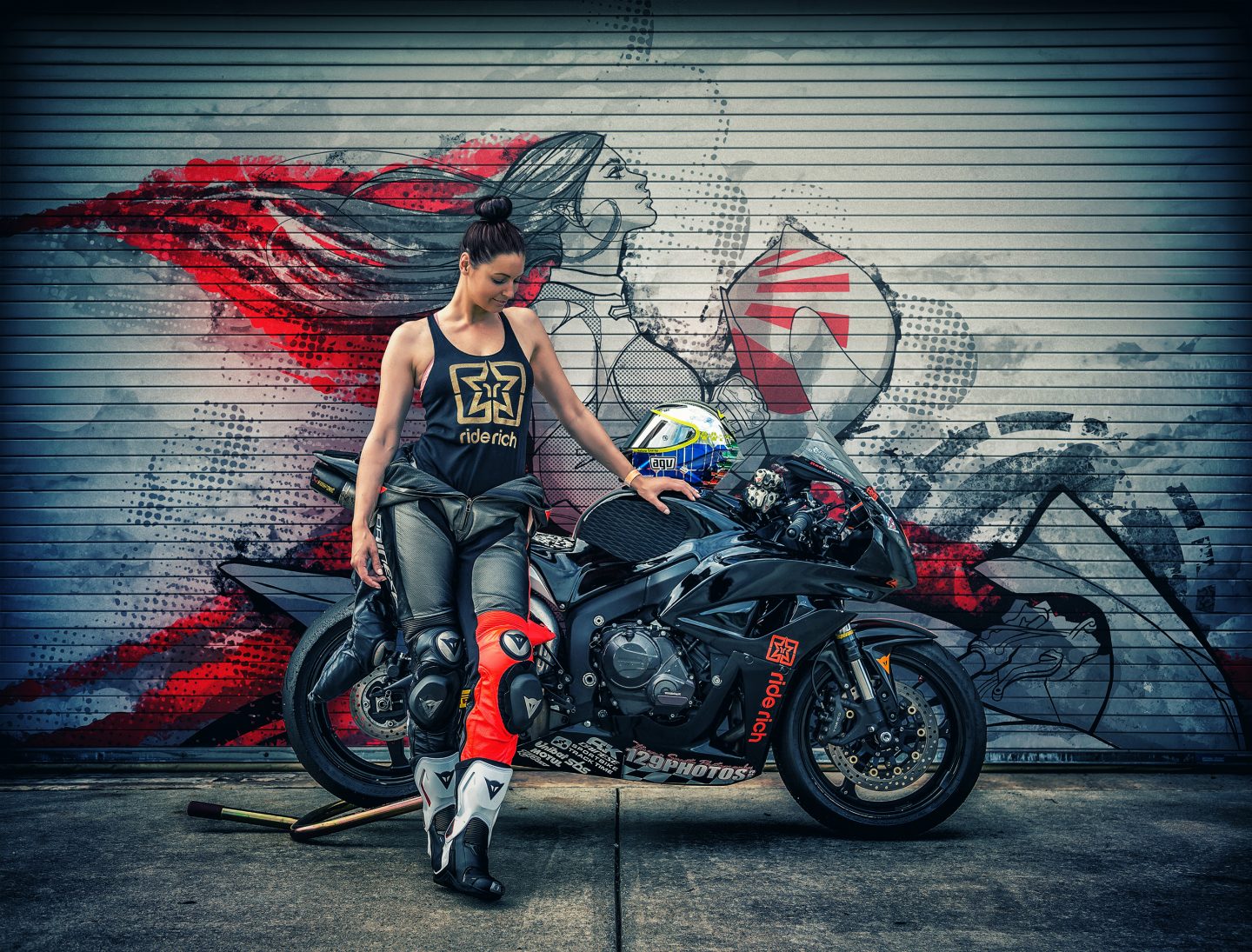 Where did it all start for you? How and when did you get into riding?
So, I believe my journey started around late 2010 when my husband [Steve] purchased his first street bike—a 1998 Honda BlackbirdXX. I rode with him as a passenger for a little over a year before I started to seriously consider learning to ride myself. I still remember a day trip to Deal's Gap (a popular motorcycle road) and how much fun we had riding together. I wanted to go faster and lean harder with Steve but we maxed out what the bike was capable of doing and actually scraped the side faring by accident lol! It was on that trip that I met and chatted with my first female rider—she was the one that convinced me to go take the MFS course and see if riding was even for me. A month later I was registered and taking the 3 day class. I passed and obtained my license the following day; a week later I went and bought my first motorcycle—a used 2011 Honda CBR250R.
It all happened very quick and to be honest, I was terrified. I'd never done anything risky in my life and I felt that if I didn't do this as soon as possible, I would chicken out. Aside from that I had another issue weighing on me—2 years prior to riding, I started to suffer from unexplained, severe nerve pain in my feet and legs. It had taken me down physically and mentally, my life as I knew it had changed for the worse. I could no longer do what healthy normal people do daily and I lived in horrible, constant pain. I was at a point where walking was extremely painful and I feared that my condition was worsening so I didn't want to waste time in case I wouldn't be able to walk anymore. How I learned to ride was nothing short of a miracle considering the medication I was on and the fact that I couldn't shift normally. I actually had to use my heal to kick up the shift lever for the first 6 month until my condition got better.
Before that, we started attending local club racing that our friends were racing in. I instantly fell in love with track life—I was completely enamoured with the sights and sounds of the track and the way the guys were riding their machines. I've never seen anything like it and it was very enticing. That's when I started shooting motorcycle photography.
Did you ride on the streets before you rode on the track?
So yes, while my spark for riding came completely from observing racing and track riding, I was too afraid to try a trackway right away. I rode street for a year before I did a trackway. In retrospect I wish I went sooner—I learned more in my weekend at track than I had learned all year riding street (and I rode almost daily!)
What are your favourite roads to ride? Your local blasts?
I stick completely to the mountains and countryside when I ride. Fortunately, I live at the foothills of some of the most gorgeous mountain roads. The collection of twisty and scenic roads that span between Georgia, the Carolinas and Tennessee are some of the best in the US and I feel truly blessed to have them at my disposal.
My personal local fave that is always a fallback is called Blood Mountain. It's a relatively short stretch of just a few miles with an awesome collection of fast technical turns. I admit I use it as a personal track sometimes which is not the best of ideas—every weekend fellow riders crash there. I'm sure one day the road will bite me when I get too cocky or comfortable.
Where is your favourite place to travel on your bike if you want to go further afield?
I usually travel north toward Tennessee and the Carolinas. As mentioned above the views are stunning. I've done single day trips of upwards of 500 miles before on nothing but twisty scenic roads. It's incredibly taxing but so rewarding. Now I prefer to split it up into 2 days and just disappear for the weekend 🙂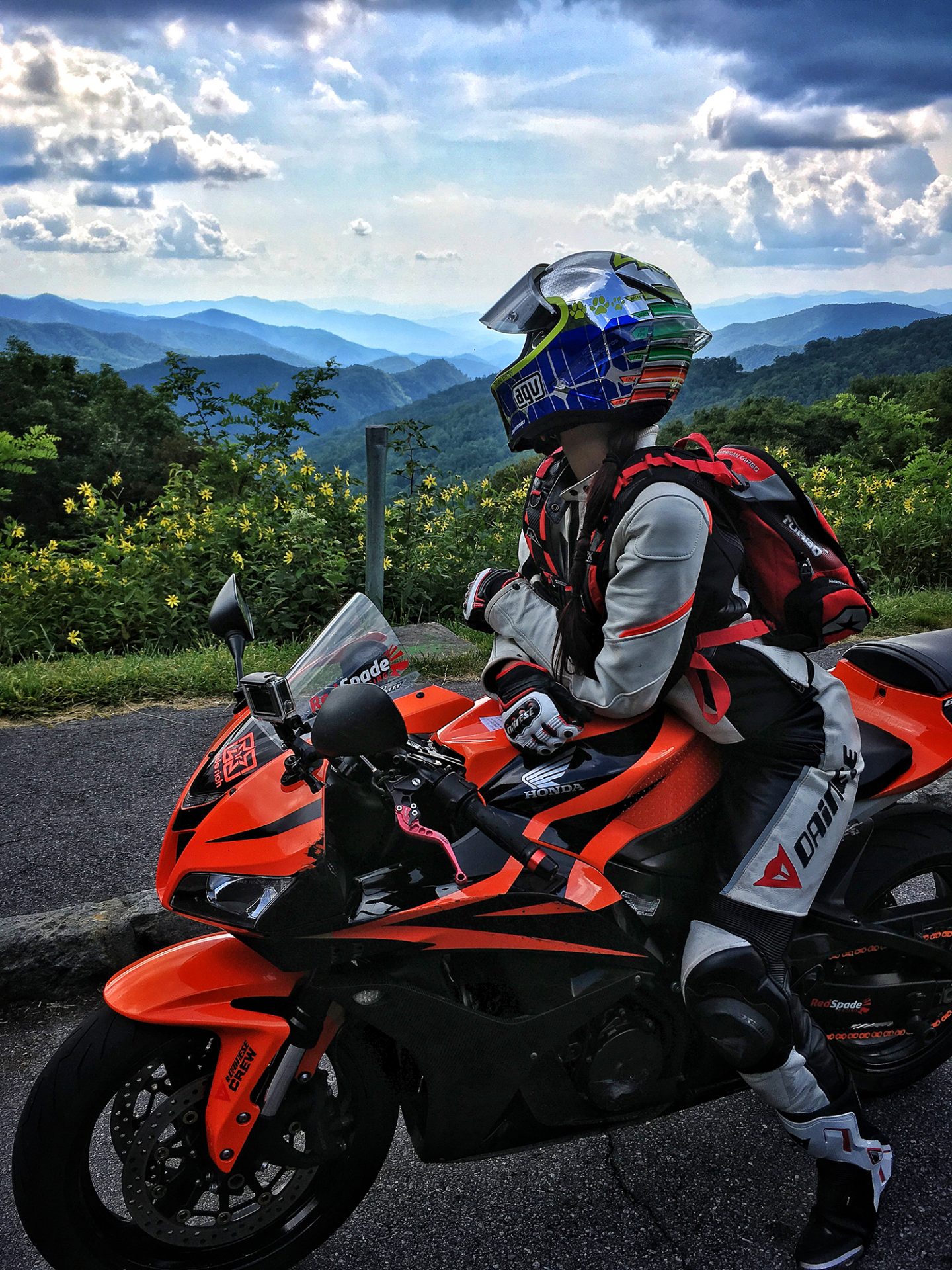 How many tracks have you ridden and what is your favourite?
I've ridden 12 different track so far. My absolute favourite is 3 hours away called Barber Motorsports Park in Alabama. I love it so much that I frequented it every month last season. The track itself has everything, technical, blind hills, and is absolutely beautiful. My second favourite track has to be Chuckwalla in California. I only got to ride this track 2 full days but it was enough to make me fall in love with it. The track is strictly for motorcycles so it was designed to flow. It's got great pavement and is very long.
I understand you have your trusty CBR600RR for track and road use.Do you ever get bored of your bike? Get that itch to change it? And do you think you will ever replace it?
I actually would love to change to a Kawasaki 636—I've had the privilege of tracking one at 5 trackways now and I fell in love with it first session out. I don't know how else to explain to other than the bike and I just clicked. My Hondas' are great but I had to do a LOT to my track Honda to make it perform better on track. The Kawasaki was incredible straight out of the box, off the showroom floor. Of course, I can't be hard on the Hondas, they are after all 10 years old now and have zero electronics. I do take pride in the fact that I've learned to feel my machine and push it without any electronic assistance.
As well as your CBR, you have your little Zed? How did you end up with one of those as it seems miles apart from your track bike? 
It is funny that in a world where bigger seems to be better, minibikes have been taking to nation by storm. To be honest, my husband is the one that wanted it—he bought it for our wedding anniversaries lol. It was actually one of the first Z125S to hit our state and we fell in love with it right away.
Do you like the Zed? What do you think about it?
Minibikes are just soooo much fun to ride! They make you feel like a kid again and bring out the inner hooligan in everyone! We have a growing group here in Georgia and I think just about all of my friends either own a Grom or Z125. So as you can imagine it's a ton of fun to goon around in a big group. It's actually the only group riding that I'll do 😛
Do you have any Motorcycle Heros or Heroines?
Oh totally! I'm absolutely enamoured by all of the female racers that I've had the privilege of meeting. I admire what they do so much—racing is such a male dominated sport that it's very hard for women to find their place within it. I still remember attending a friend's trackday and a female club racer [Lisa] came up to me and chatted to me. She was friendly and inviting and made me feel part of the track family. It's thanks to people like her that I was more inclined to get into track riding since it can be quite intimidating for a first timer.
Aside from her, I've had the pleasure of riding with pros like Caroline Olsen, Shelina Moreda and Patricia Fernandez. Shelina even reached out to me when she read one of my blogs about struggling with my riding. She invited me out to one of her dirt camps because she thought it would help me get over my mental block—and she was so right! I can't begin to even describe how moved I was when she reached out to me, I was literally in tears that a stranger would extend her hand out to help like she did.  Caroline has also helped and trained me on track. Aside from that, she's an incredible woman, kind, real and genuine—I hold her in very high regard. I had the pleasure of riding some mountain twisties with Patricia, to be honest I was super intimidated. But she proved to be such an incredibly down to earth, funny and kick ass chick. Even though she's raced MotoAmerica and now is competing in Irish Road Racing on a ZX10R, she was super humble and riding with her was a blast!
There are many more wonderful men and women that I look up to, but if I named them all we'd be here all day…literally!! They range from my fellow trackday junkie club racer husband, right up to the guys of MotoGP. Each of them has touched me somehow and helped inspire me on my moto journey.
In a typical season, how may times will you normally ride on track per month?
This is really all depending on circumstance. My second season I dedicated everything in my life to track, meaning everything was measure in the cost of tyres and track time. My goal was to live at track and I did that by completing something like 33 trackways. Then last season fate kind of shaped those events—Steve had a terrible accident round 2 of the season that totalled his bike and his body. He was out for the entire year so I was left to my own devices lol. I ended up going to track 2-4 days a month. However this season that will change now that Steve is back at racing.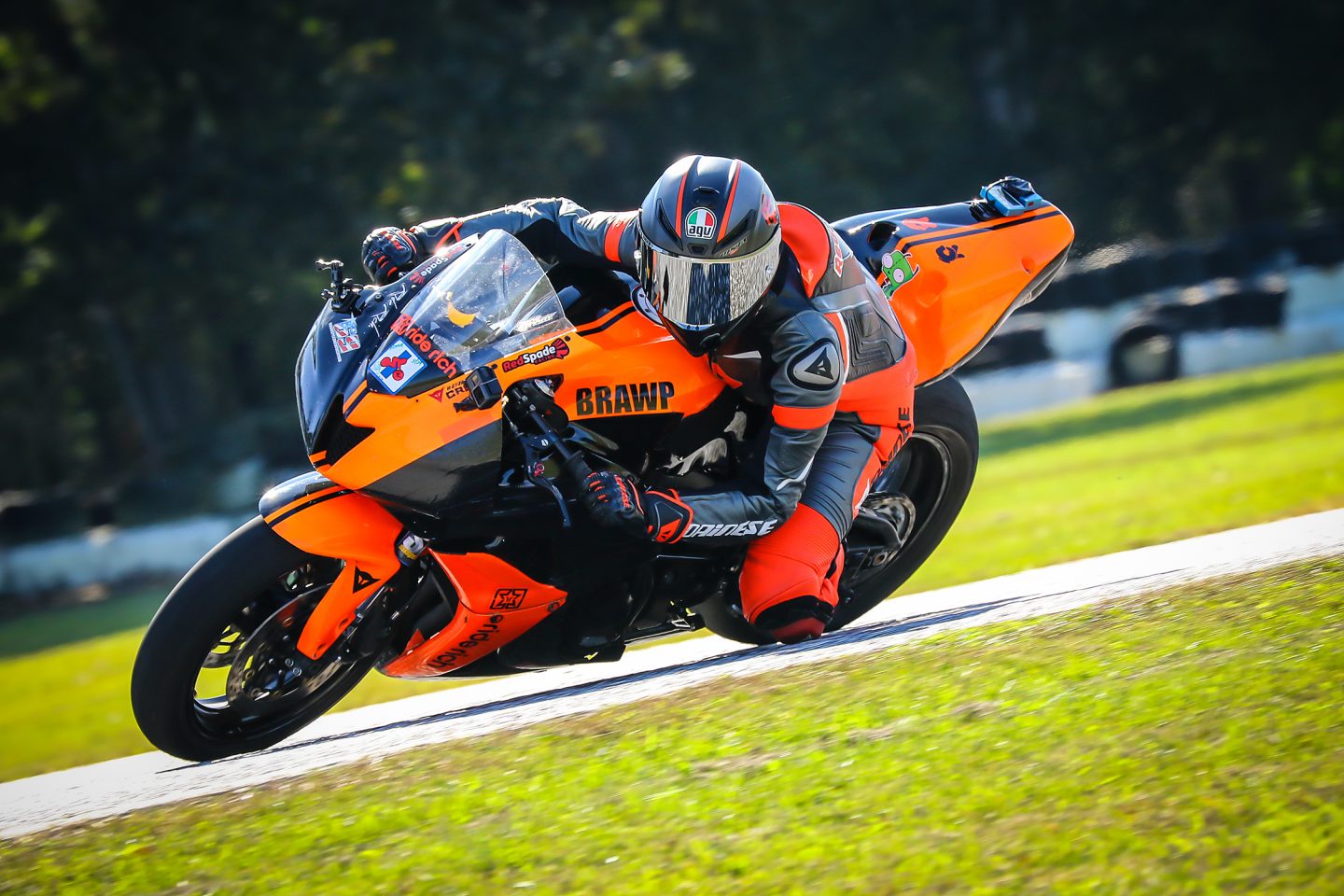 So glad to hear Steve is recovering well. Is he your favourite person to hit the track with?
Steve is doing well, trying to get back in the swing of racing again. His injuries were a fractured rib, 2 fractured vertebrae and a broken hip. It was truly a treat and a relief to see him riding track at Laguna Seca just 4 months after his accident. But the road to getting him back to racing has been long, and he's been working super hard putting in 60-80 hour work weeks to buy his new race bike. Our sponsors have come through as well in helping us for which I'll be forever grateful. In November, we were able to host a trackway and finally ride again together. I'm not so certain I totally like riding with him though, he mops the track with my slow ass and it's frustrating lol. The guy has mad talent and I'd be lying if I said I wasn't a little jealous. While I do love going to track with him, we rarely see each other because we usually ride in separate groups—Steve is Advanced and I'm Intermediate.
What in your opinion is the best bike you have ever ridden? And is there a bike that you'd love to ride but haven't yet?
Oh, this is such a tough question haha!!! I'm going to revert to the bike I've had the most time on that I gelled the most with and that's the Kawasaki 636. However, I have to admit that last summer the 2017 ZX10R completely stole my heart—you couldn't peel the bars out of my grip lol! Another amazing machine I've ridden was the Aprilia RSV4, my goodness what a nimble, powerful and stunning machine. I want to add that I've ridden all these bikes on track which I feel is truly the only place to get the feel for a bike.
I've always wanted to give the RC8 a go, sadly it just never happened, maybe one day. Something tells me I won't like it very much but I still gotta give it a go if the opportunity will present itself.
Your moto photography is incredible. How did you get into it?
Why thank you! I started shooting at trackways and club racing events actually. That was just before both my husband and I got into riding. I've always loved the way motorcycles looked and when we purchased our first DSLR, I quickly realised I loved shooting all the little intricate details. This very quickly escalated into one of my favourite hobbies.
Tell me about RedSpade Racing. How did it come about and were you happy with how it was received?
Honestly RedSpade originated as a catchy online handle for my instagram account which I've had since 2010, maybe even earlier, I honestly can't remember. As the account started to gain popularity and Steve started getting interested in racing we decided to establish RedSpade Racing, LLC. At first it was to encompass our photography business and give us credibility as a legit company. Somehow we amassed many fans that wanted t-shirts and stickers, so we did just that. Later when Steve started racing it became a fully fledged race team. Of course anyone can do this, it's honestly not a big deal.
To this day I'm absolutely floored at how RedSpade Racing took off. I've always felt RedSpade was an icon for all riders to relate to. The goal is to encompass the passion of riding, to spread safety and motorcycle skill awareness and to encourage people to ride smart all the while surpassing their boundaries and finding out what they are made of. There's a place and time for everything and I've personally always taken riding very seriously. It's changed my life profoundly and made me a better person. My journey on 2s has been relatively short—only 5 years. But since Iv'e started riding 5 years ago, everything we do in the RedSpade household revolves around motorcycles. Will I always be this focused on motorcycles? I'm not sure, as with everything time and experiences change you and your focus. But for now, I'm grabbing at life by the fistful and sharing it with everyone that is curious.
I think the most rewarding thing coming out of RedSpade are the people that reach out and have been positively influenced by what we do and represent. If I was able to direct even one person in a positive direction and help them get on their bike safely then it was all worth it.
You're a bit of a business woman as well getting lots of sponsors under your belt. Did you go out and seek them or did they go out and seek you?
So I get asked this one a lot.
All of my current sponsors have actually sought me out. I started really small supporting companies I liked, like RideRich and sporting their apparel. I started off with testing helmets and small moto related products. If I liked them then I would write about them and promote them. Then a couple years down the line, Dainese & AGV reached out to me and offered me their brand ambassadorship spot. They had told me that they were watching me for a very long time to see if I was aligned with what they do and believe in. So in the end, I was very honoured to be able to work with a company that I personally love and believe in. As I made more connections in the industry, things got easier and more and more doors opened up. I get a decent amount of offers but I only promote what I believe in and enjoy using/wearing myself. A successful brand ambassador needs to be relatable and real to the public's eye. You can't force this type of thing, people aren't stupid and social media is a fickle beast. I try to keep everything as organic and transparent as possible, it's served me well over the last 4 years. 
Tell me about your RedSpade Rider Program that you're looking to kick off in the future?
The RedSpade Rider program is really just an acknowledgement for the people that have been by our side and believe in what we do, more so in the movement and spirit that RedSpade Racing embodies. We actually have a number of these people as part of our RSR family already and so this year I would like to put up their stories on our website. RSR started out by sharing the moto journey, but not only mine. I still want to share the experiences of fellow riders and racers alike, so this will be our outlet for doing so. Anyone is welcome to become part of the RSR family as long as they embody the spirit and uphold the morals we represent. Ride smart, be respectful of yourself, the machine and the law, and stay humble.
I believe you recently did a blog post on your website about the importance of safety gear after our mutual friend was involved in a life changing crash. Was that the tipping point that made you want to raise awareness? 
Actually I've always been a big advocate of All the Gear All the Time. In my 1st 3 years of riding I was a bit of a gear Nazi—but only because I've seen first hand what happens when you make stupid choices. I was very overzealous in getting my message across but only because I care. These days I try not to come across as condescending or judgemental about people's gear choices because that does absolutely nothing for the cause. Over the years I've decided to just post about the options of safety and try to educate people to make the smart choice rather than berate them. Natalia's accident was unfortunately the perfect reminder why quality and properly fitting gear is so important. I was moved by what happened to her because I truly like Natalia and was absolutely gutted for her. So many people don't even know the reason for a fitted helmet that it's scary so I felt I just had to talk about it in a blog.
Click here to read Red's blog post on the matter:
 https://redspaderacing.com/harsh_realities/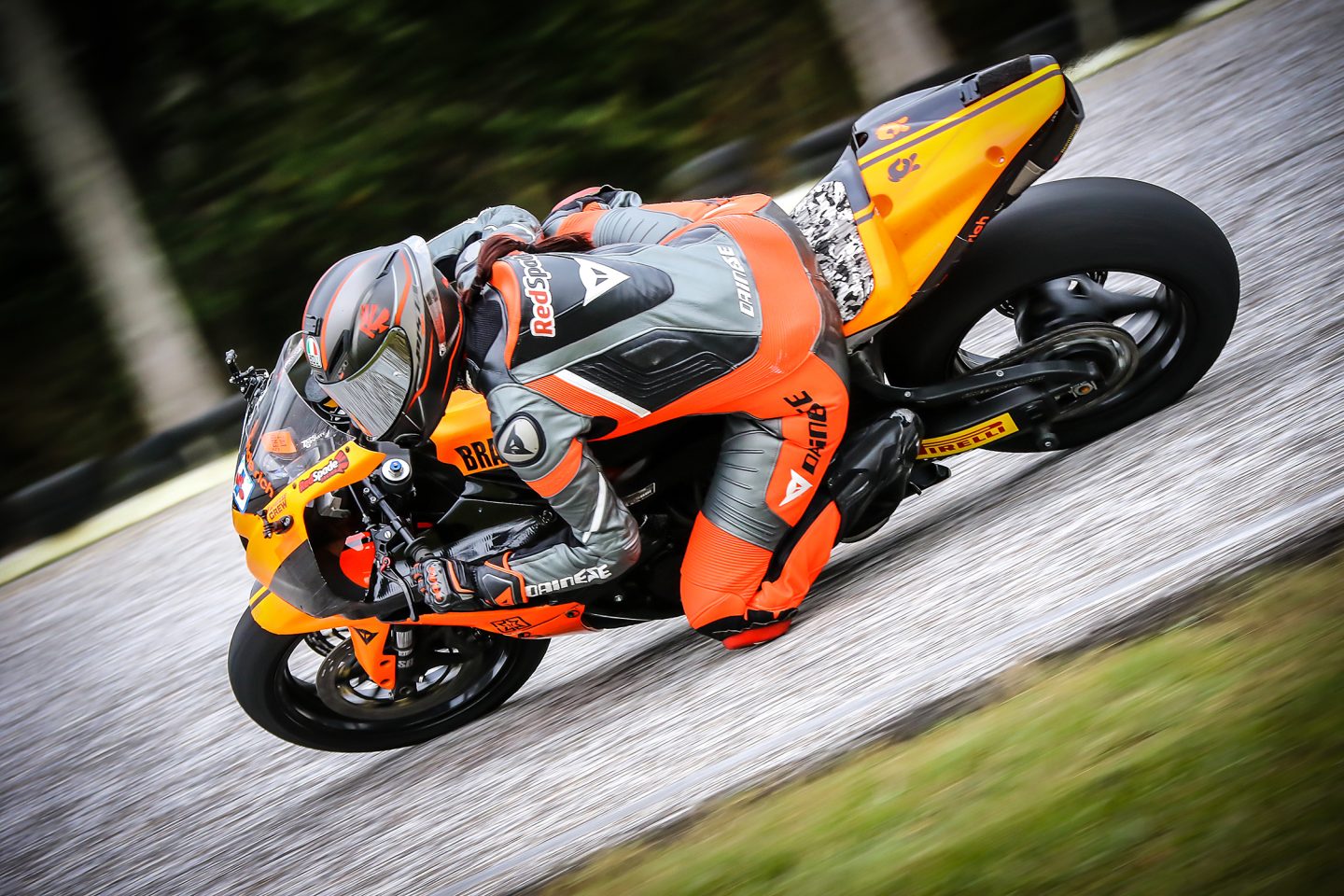 You have clearly done something right to carry so much influence on your social media platforms. What do you like most about social media platforms, specifically relating to our passion – bikes.
I have no idea what I've done honestly lol!! In the end I've just kept it real and genuine. I try to be as transparent as possible so what you see is what you get. Apparently, thanks to this I've made a ton of friends and connections on social media—that's truly the one and only thing I'm after here now. I've also learned so much from others and have been inspired to progress my skills. I still remember seeing photos and gopro captures of these guys dragging a knee or something else I thought was cool. I never thought I'd be able to do the same thing, and now years later I'm able to post images that inspire other people just like I was inspired.
What is your biggest bug bears about social media in relation to bikes? Does it have its downfalls in your eyes?
Hmmm, I definitely have quite a few pet peeves with social media but to be honest I don't really want to focus on them. I suppose the biggest potential issue I see is with the monkey see monkey do scenario. There's a lot of young, inexperienced and impressionable people out there that get the wrong idea about riding a motorcycle. It often seems to me that people lack respect for their machines and set a wrong message about the sport in general. Maybe I'm just getting old lol!
Finally, we're just into the second month of 2018. What are your plans and what goals do you wish to achieve this year?
Well, I'm a bit of a nut with goals because I always want to raise the bar higher before I even get to my first goal. This year I just want to support Steve in his racing endeavours. Last year was my year to have fun and achieve my goals—which I accomplished. This year while I would love to drop my lap times another 5-6 seconds, as of this moment I don't know how much track time I'll be able to get. However, I want to get back to more touring on my bike and experiencing some more road trips with friends.
Photography is definitely on top of my list still, I want to get better at it and capture some great stuff to share on social media. Right now I want to do a couple photoshoots of Steve an his bike which is always a challenge because he hates getting his picture taken.
I've got a few ideas for some long distance trips that I really want to do, but I'll have to wait and see how things pan out for now 🙂
As always-  the goal is to progress my skills, get faster, and keep the shiny side up!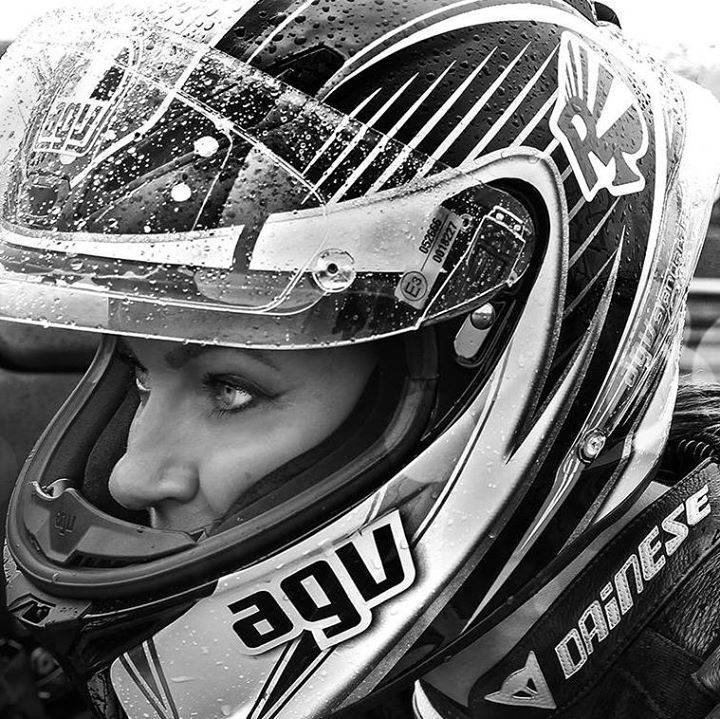 I would just like to say a huge thank you to Anna for taking the time to answer my questions, it's been fun!
If you want to be inspired like me, check out Red on the following websites:
https://www.instagram.com/redspade/
https://twitter.com/redspaderacing?lang=en
https://www.facebook.com/redspaderacing/
https://www.youtube.com/user/redspaderacing